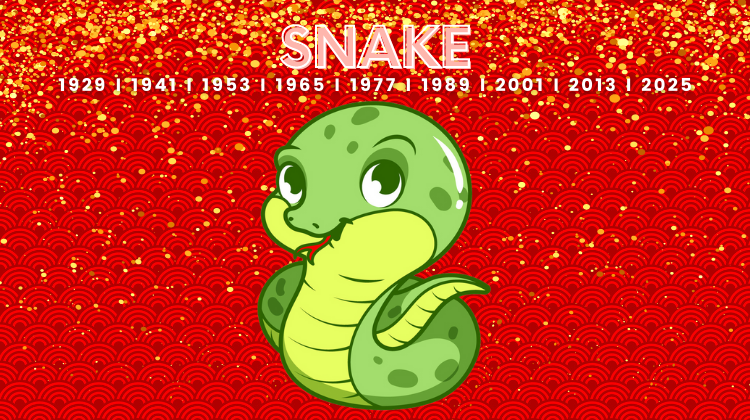 The Snake is the sixth of all zodiac animals. According to one myth, the Jade Emperor said the order would be decided by the order in which they arrived to his party. Because of their similar looks, Snake and Dragon were good friends. They arrived at the same time. But unfortunately, due to the size difference, the Jade Emperor first saw Dragon, and then Snake.
Personality and Characteristics
Snakes are humorous and sophisticated. They don't like small talk or thinking about small everyday problems.
In a chaotic environment, they are the eye of the storm. Snakes are able to hold their ground and calmly think of solutions.
They are always making new plans and follow them without relying on others' input. They're usually correct, but this also comes from a distrust of others. You cannot judge a Snake by its cover. Their slow and lazy talking hides their fast-paced thinking. Behind their calmness, they are alert and observant.
Compatibility
Most compatible with Snake: Monkey, Rooster, Ox
Monkey and Snake make up the most compatible pair. They have similar personalities, but one is yin and the other is yang. Therefore, they can reach harmony.
Snake and Rooster seem very different, but they are quite compatible. A Rooster's ability and taste are what attracts a Snake.
They fit well with Oxen as well. A Snake gives Oxen warmth and romance, and receives a reliable anchor in return.
Least compatible with: Tiger, Pig
It's hard for a Snake and Tiger to sympathize and understand each other. The relationship will be full of suspect and coldness.
Snakes are also incompatible with Pigs. They can work well together, but there isn't much trust in a relationship.
Lucky things for Snakes
Colours: red, yellow, black
Numbers: 2, 6, 8
Mineral: amethyst
Directions of auspiciousness: southwest, south
Directions of wealth: northwest
Directions of love: south
Unlucky things
Colours: white, gold, brown
Numbers: 1, 6, 7