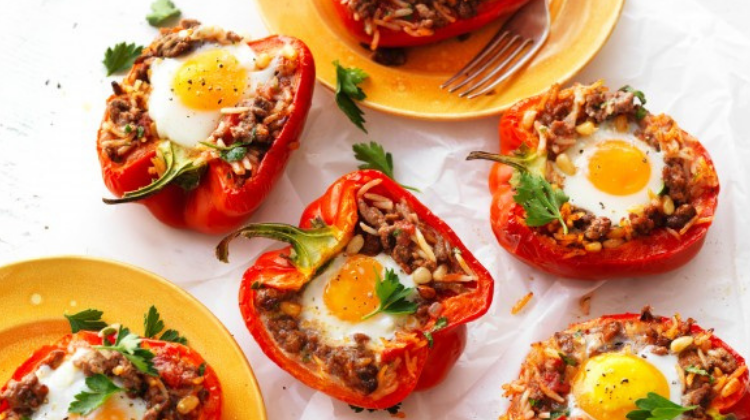 These easy egg stuffed peppers are the perfect breakfast for busy mornings! You can make a big batch on the weekend and enjoy them throughout the week! These egg stuffed peppers are paleo, Whole30, low carb and super simple to make!
INGREDIENTS
4 large red capsicums, halved, deseeded
2 teaspoons olive oil
1 small red onion, finely chopped
2 garlic cloves, crushed
2 teaspoons finely grated lemon zest
1 teaspoon ground cumin
1 teaspoon ground cinnamon
300g lean lamb mince
125g cup microwave basmati rice, cooked
1 cup canned diced tomatoes (see tip)
2 tablespoons toasted pine nuts
2 tablespoons chopped fresh flat-leaf parsley, plus extra leaves to serve
8 small eggs
METHOD
Step 1
Preheat oven to 200°C/180°C fan forced. Line a large baking tray with baking paper. Place capsicums on prepared tray and bake for 15 minutes.
Step 2
Meanwhile, heat oil in a large non-stick frying pan over medium heat. Cook onion, stirring, for 4 minutes or until softened. Add garlic, zest, cumin and cinnamon and cook, stirring, for 1 minute or until fragrant. Add mince and cook, breaking mince up with a wooden spoon for 3-4 minutes or until just cooked. Add rice, tomatoes and pine nuts and cook, stirring, for 2 minutes. Season with salt and pepper and stir in the parsley.
Step 3
Drain any liquid from capsicums. Spoon filling into capsicums and make an indent in each. Carefully break an egg into indent and bake for 15 minutes or until eggs are cooked to your liking. Serve sprinkled with extra parsley.
TIP: Leftover canned tomatoes can be frozen in a small airtight container for up to 2 months and is perfect to spread over home-made pizzas topped with eggs, of course!
---
Recipe by: Author: Australian Egg Publication: My Foodbank