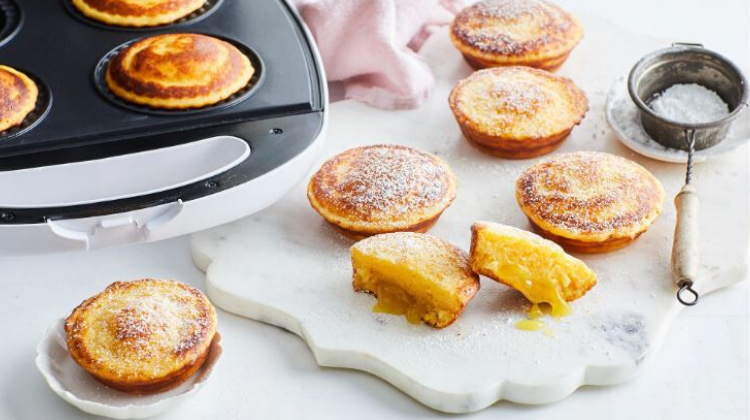 With a custardy, gooey bottom and fluffy top, these Kmart pie maker puddings taste exactly like the classic dessert!
INGREDIENTS
185ml (3/4 cup) milk
2 tablespoons fresh lemon juice
2 teaspoons finely grated lemon rind
150g (1 cup) self-raising flour
35g (1/4 cup) custard powder
55g (1/4 cup) caster sugar
2 eggs, lightly whisked
100g butter, melted, cooled
1 tablespoon bought lemon curd
Icing sugar, to dust
METHOD
Step 1
Place the milk, lemon juice and rind in a jug and whisk to combine. Preheat the pie maker.
Step 2
Sift flour, custard powder and caster sugar into a large bowl. Make a well in the centre. Pour the milk mixture, egg and melted butter into the well. Use a metal spoon to stir until just combined.
Step 3
Place 2 tablespoonsful of the mixture into each pie hole. Place 1/2 teaspoon lemon curd into the centre of each pudding. Top each pudding with another 2 tablespoonfuls of the mixture. Close the lid and cook for 7 minutes or until just set.
Step 4
Transfer puddings to a wire rack to cool. Repeat with remaining mixture and curd. Dust with icing sugar to serve.
---
RECIPE BY: Author: Tracy Rutherford Image credit: Brett Stevens Publication: Taste.com.au