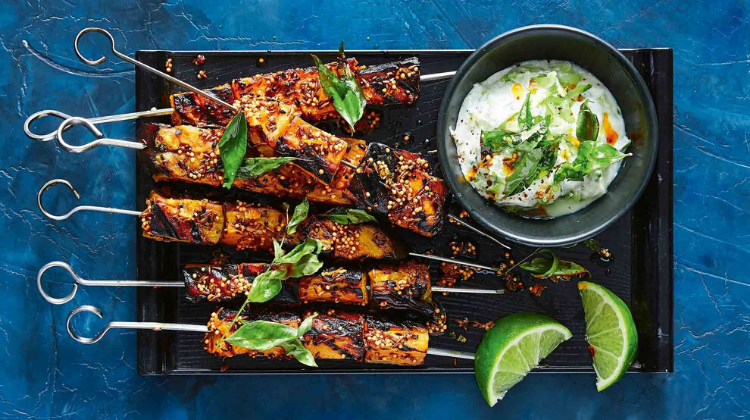 These Indian-spiced eggplant skewers are full of flavour and are also budget-friendly.
INGREDIENTS
3 eggplants, trimmed
1 sprig fresh curry leaves
1 Lebanese cucumber halved lengthways
1/2 cup plain Greek-style yoghurt
Lime wedges, to serve
Indian Spice Mix
1 tablespoon yellow mustard seeds
1 tablespoon cumin seeds
1 teaspoon turmeric powder
1/2 teaspoon chilli flakes
2 garlic cloves, crushed
1/3 cup vegetable oil
METHOD
Step 1
Make Indian Spice Mix. Combine spices, garlic and oil in a small bowl. Season with salt and pepper.
Step 2
Cut eggplant into 5cm cubes. Thread 4 eggplant pieces onto each skewer. Place on a baking tray. Brush spice mixture onto the eggplant.
Step 3
Heat barbecue grill on medium-high heat. Cook skewers for 2 to 3 minutes each side, brushing with extra spice mixture, or until tender and beginning to char. Transfer to a serving plate. Add curry leaves to grill. Cook for 1 minute or until fragrant.
Step 4
Meanwhile, using a metal teaspoon, remove and discard seeds from the cucumber. Grate cucumber. Place in a small bowl. Add yoghurt. Season with salt and pepper. Stir to combine. Serve skewers with yoghurt, curry leaves and lime wedges.
---
RECIPE BY: Author: Kate Murdoch Image credit: Nigel Lough Publication: Super Food Ideas and Taste