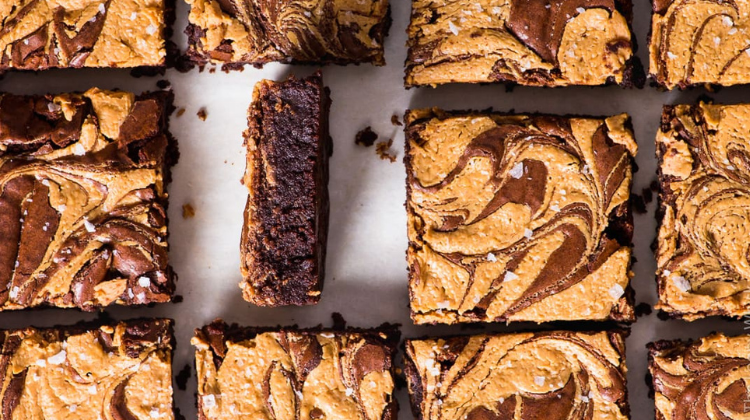 There are few things better than these peanut butter swirl brownies. They're perfectly fudgy, and the peanut butter swirl (aside from being drop dead gorgeous) pairs wonderfully with the bitter sweetness of the chocolate and the cocoa powder in the brownie batter. Add a pinch of sea salt, and you've got yourself the perfect dessert.
INGREDIENTS
3 sticks (350 g) unsalted butter
10 oz (280 g) dark chocolate, chopped
2 1/2 cups (500 g) caster sugar (you can use granulated sugar, but caster sugar is recommended)
5 medium eggs, room temperature
2 cups (240 g) plain gluten free flour blend
1/2 tsp xanthan gum (omit if your GF flour mix already contains xanthan)
1/2 cup (60 g) cocoa powder
1/2 – 3/4 tsp salt
1/2 cup (120 g) natural unsweetened smooth peanut butter
METHOD
Step 1
Pre-heat the oven to 320 ºF (160 ºC) and line a 9 x 13 inch (23 x 33 cm) rectangular baking tin with greaseproof/baking paper.
Step 2
In a heat-proof bowl above a pot of simmering water, melt together the butter and chocolate.
Step 3
In a separate large bowl, stir together the sugar and eggs using a wooden spoon or spatula. Don't use a whisk – you want to gently mix the two together until the sugar is partially melted, without whisking the mixture. This will ensure a thin, shiny crust on top of your brownies.
Step 4
Pour the melted chocolate+butter mixture into the eggs+sugar mixture, and mix together until homogeneous.
Step 5
Sift the gluten free flour blend, xanthan gum, cocoa powder and salt together, and fold into the wet ingredients until you get a smooth brownie batter with no flour clumps.
Step 6
Transfer the brownie batter into the lined baking tin and smooth out the top.
Step 7
If your peanut butter is too thick for drizzling, heat it in the microwave in 5-10 second bursts until runny. Drizzle the peanut butter over the brownie batter and, using a skewer or toothpick, create swirls.
Step 8
Bake at 320 ºF (160 ºC) for 30 – 35 minutes, or until an inserted toothpick comes out covered in many moist crumbs and some half-baked batter. You don't want to over-bake the brownies, as this will dry them out.
Step 9
Allow to cool in the baking tin for about 10-15 minutes, then remove the brownies from the baking tin onto a wire cooling rack to cool completely.
TIP: Storage: The peanut butter swirl brownies keep well in a closed container in a cool dry place for 3 – 4 days. (And they stay as fudgy as they were on day 1!)
---
Recipe by: Author: Kat Images: The Loopy Whisk Publication: The Loopy Whisk