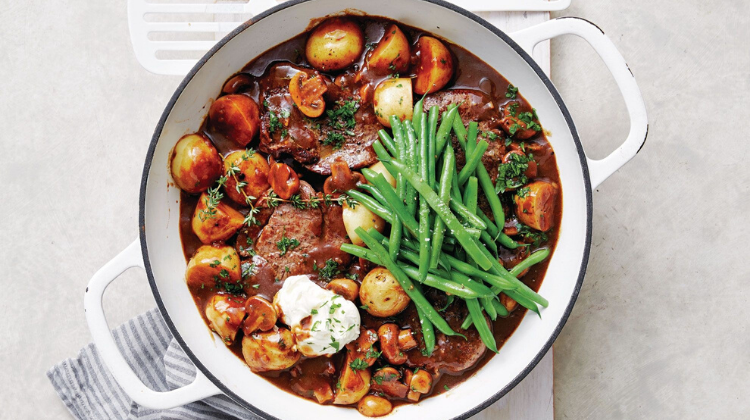 Indulge in a delicious stew made in just 10 mins, with French onion soup mix, Moroccan seasoning and microwave spuds.
INGREDIENTS
400g pkt butter herb microwave potatoes
200g button mushrooms
150g green beans
4 beef eye fillet steaks
1 tablespoon olive oil
6 fresh thyme sprigs, plus extra sprigs, to serve
1 fresh continental parsley sprig
20g butter
40g pkt Continental French Onion Simmer Soup mix
250ml (1 cup) beef stock
2 tablespoons Worcestershire sauce
Crème fraîche, to serve
METHOD
Step 1
Heat a large frying pan over high heat. Fill a small saucepan with water, place over high heat and bring to the boil.
Step 2
While the pan and water heat up, cook the potatoes in microwave following packet directions. Halve mushrooms and trim beans.
Step 3
Season both sides of steaks. Add the oil and steaks to the frying pan. Cook for 2 minutes then turn over. Add mushrooms and thyme. Cook, stirring mushrooms occasionally, for 3 minutes or until starts to brown. Transfer steaks to a plate and cover with foil to keep warm.
Step 4
Meanwhile, place the beans in the saucepan of boiling water. Cook for 3 minutes or until tender-crisp. Drain. Halve the potatoes and finely chop the parsley.
Step 5
Add butter and soup mix to the frying pan. Stir to combine. Gradually add stock. Cook for 1 minute or until thickens and comes to the boil. Stir in Worcestershire. Toss in potatoes until combined. Add steaks. Turn to coat.
TIP: Top with beans, parsley, extra thyme and crème fraîche. Serve.
---
Recipe: Publication: Taste Magazine Author: Michelle Southan
Image credit: Guy Bailey and Guy Bailey