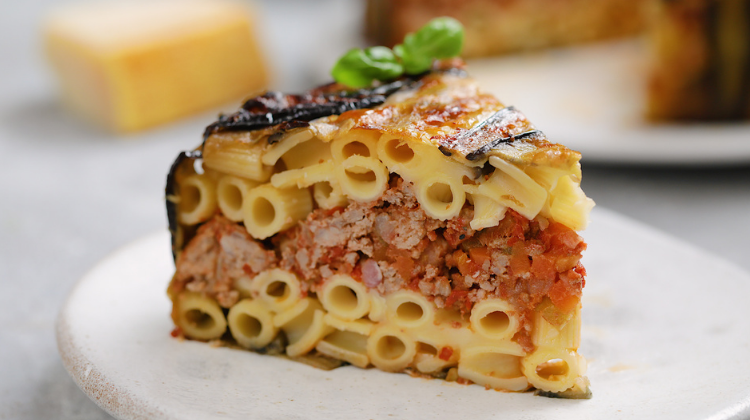 Eggplant Incaciata has everything you love in one dish.
INGREDIENTS
Eggplant
6 large eggplants
Olive oil
Salt
Ragu Bolognese
1/8 cup vegetable oil
3 1/2 ounces unsmoked pancetta
1 medium onion, finely chopped
1 large carrot, peeled and finely chopped
1 large celery stalk, finely chopped
8 ounces minced pork
8 ounces minced beef
1/2 teaspoon salt
1 teaspoon freshly ground black pepper
1/2 teaspoon chili flakes
1 (14-ounce) can chopped tomatoes
1/2 cup water
Eggplant Incaciata
16 ounces ditalini pasta, or other small tube pasta
8 ounces mozzarella, grated
1/4 cup grated Parmesan, plus more to serve
Fresh basil, to serve
Ragu Bolognese
Baked eggplant slices
METHOD (Seems long but worth it)
Eggplant
Step 1
Preheat the oven to 400 degrees, and drizzle olive oil over two nonstick baking sheets.
Step 2
Slice the eggplants lengthways into 1/4-inch slices. Lay them out in a single layer on the baking sheets, then brush the tops with oil and season with salt.
Step 3
Bake for 10 to 15 minutes until starting to brown.
Step 4
Flip and brush with oil, then cook for another 10 to 15 minutes.
Step 5
Remove from oven and allow to cool slightly.
Ragu Bolognese
Step 1
Heat oil in a large saucepan on a low heat.
Step 2
Add the pancetta and cook for 5 minutes until the fat is starting to melt, then add the onion, carrot and celery.
Step 3
Cook for 15 minutes, stirring often, until softened.
Step 4
Crumble in the pork and beef, then add the salt, pepper, and chili flakes.
Step 5
Increase heat to medium and continue to cook, stirring occasionally, for 5 minutes.
Step 6
Stir in tomatoes and water, bring to a simmer, then reduce to a thick sauce.
Step 7
Remove from heat and allow to cool.
Eggplant Incaciata
Step 1
Bring a large saucepan of salted water to a boil. Cook the pasta for 1 minute less than it says on the package, until almost al dente.
Step 2
Drain and rinse under cold water, then drizzle a small amount of oil over the colander, mix through, and set aside.
Step 3
Preheat the oven to 350 degrees.
Step 4
Brush a cake pan with olive oil, then sprinkle with the grated Parmesan, turning it to coat the sides. Lay larger eggplant slices around the edges of the pan so they overlap and hang over the edge. Use smaller slices to fill the middle of the base, overlapping each other to create a seal.
Step 5
Combine the pasta and the mozzarella, then place half into the cake pan, filling it one-third of the way.
Step 6
Top the pasta layer with a layer of bolognese, another one-third of the way up the tin.
Step 7
Add remaining pasta, then top with remaining eggplant slices. Fold in the slices hanging over the sides.
Step 8
Cover with foil and cook for 30 minutes. Remove the foil and cook for another 5 to 10 minutes, until golden brown on top.
Step 9
Allow to rest for 15 minutes, then turn the pan over onto a serving plate.
Step 10
Top with extra Parmesan shavings and fresh basil, then slice and serve.
---
Recipe by: Publication: Tastemade