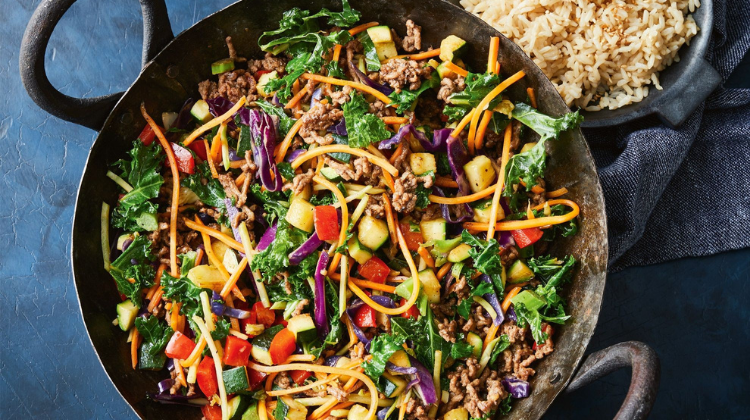 Low-fat and low-cal, this super-vegie beef mince stir-fry is ready to dish in just 20 minutes.
INGREDIENTS
2 teaspoons sesame oil
1 large red capsicum, deseeded, finely chopped
2 zucchini, finely chopped
300g packet superfood stir-fry vegetable mix
500g extra lean beef mince
2 garlic cloves, crushed
2 teaspoons finely chopped fresh ginger
2 tablespoons mirin
2 tablespoons salt-reduced soy sauce
2 teaspoons sesame seeds, lightly toasted
270g (2 cups) steamed brown rice
METHOD
Step 1
Heat half the oil in a large wok or frying pan over high heat. Add the capsicum, zucchini and stir-fry mix. Stir-fry for 2 minutes or until tender crisp. Transfer to a bowl.
Step 2
Heat the remaining oil in the wok over high heat. Add the beef and stir-fry for 3 minutes or until browned. Add the garlic and ginger. Stir-fry for a further minute or until aromatic.
Step 3
Return the vegetable mixture to the wok with the mirin and soy sauce. Stir-fry for 1 minute or until heated through. Sprinkle with sesame seeds and serve with the rice.
TIP: Peeling fresh ginger can be tricky with a knife or vegie peeler. An easier way is to scrape the skin off using the edge of a dessert spoon – just hold it like you would a vegie peeler. The spoon easily slips around the ginger nodes and your fingers are safe from blades.
---