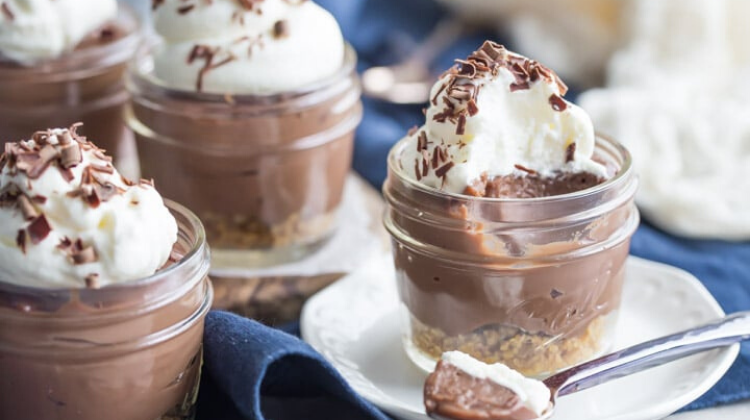 You won't believe how easy these chocolate pudding pie jars are to make! With a buttery graham cracker crust, a smooth, rich, and intensely chocolate-y homemade pudding, and a crown of fluffy real whipped cream, you'll never go back to store-bought after tasting this from-scratch recipe!
INGREDIENTS
For the Graham Cracker Crust
3 graham crackers or digestive biscuits
3 tablespoons unsalted butter, melted
For the Chocolate Pudding
1/4 cup granulated sugar
3 tablespoons cornstarch
1/8 teaspoon kosher salt
2 cups milk
3/4 cups heavy cream
1 tablespoon unsalted butter
3/4 cups chocolate chips (I used a combination of milk chocolate and semi-sweet)
1 teaspoon vanilla extract
For the topping
3/4 cups heavy cream, whipped to soft peaks with 1 tablespoon granulated sugar.
chocolate curls for garnish*
METHOD
Step 1
Process the graham crackers in a food processor or mini-chopper until fine.
Step 2
Add the melted butter and toss together.
Step 3
Place about 1 1/2 tablespoons of the mixture in each of the bottoms of six 4-ounce jars.
Step 4
Place the sugar, cornstarch, and salt in a small pot and whisk to combine.
Step 5
Gradually pour in the milk, while whisking.
Step 6
Stir in the cream and add the butter.
Step 7
Heat over medium-high heat, whisking, until the mixture thickens and comes to a bubble.
Step 8
Turn off the heat and stir in the chocolate chips and vanilla extract.
Step 9
Spoon the pudding into the prepared jars, and top with whipped cream and chocolate curls.
---
RECIPE BY: Website and Images by Baking a Moment