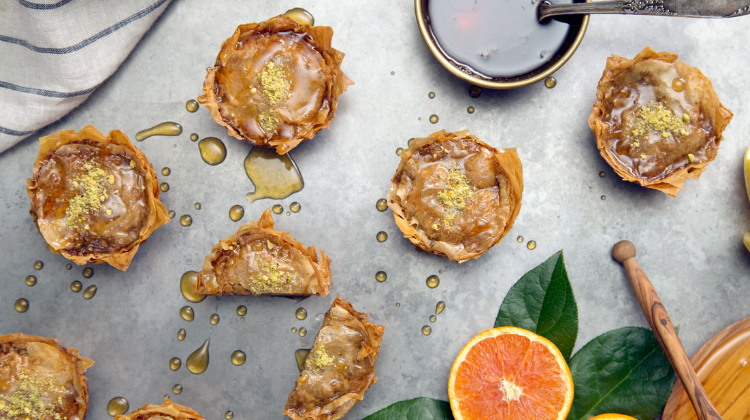 Get all that nutty, flaky, honey deliciousness you love in a baklava, only in an even heartier tart.
INGREDIENTS
For the baklava:
1/2 cup pistachios, plus more for garnish
1 1/2 cups walnuts
1/2 cup almonds
1/3 cup sugar
1 teaspoon cinnamon
1 pound filo dough, defrosted
3/4 cup melted butter
For the syrup:
3/4 cup water
3/4 cup sugar
3/4 cup honey
1 tablespoon lemon zest
2 tablespoons lemon juice
1 1/2 teaspoons orange blossom water
METHOD
Step 1
For the baklava: In a food processor, add the pistachios, walnuts, almonds, sugar and cinnamon and blend until finely chopped and uniform.
Step 2
Preheat oven to 180 degrees. Cut out 24 squares of pastry, 10cm by 10cm. Cut out 72 rounds of pastry with a 3-inch round cutter. Brush the squares with melted butter and place 2 squares into each muffin tin indentation. Fill each muffin tin with a spoonful of the nut mixture, a round or two of filo pastry and then brush with butter. Repeat until tins are completely full and then top with another round of filo pastry. Bake for 30 to 35 minutes until golden brown.
Step 3
For the syrup: In a small saucepan, combine water, sugar, honey, lemon zest, lemon juice and orange blossom water. Bring to a boil and allow to reduce for about 10 minutes. Let cool slightly and spoon over the hot baklava tarts. Leave to set at room temperature for about 4 hours. Garnish with crushed pistachios before serving.
---
Recipe by: Publication: Tastemade