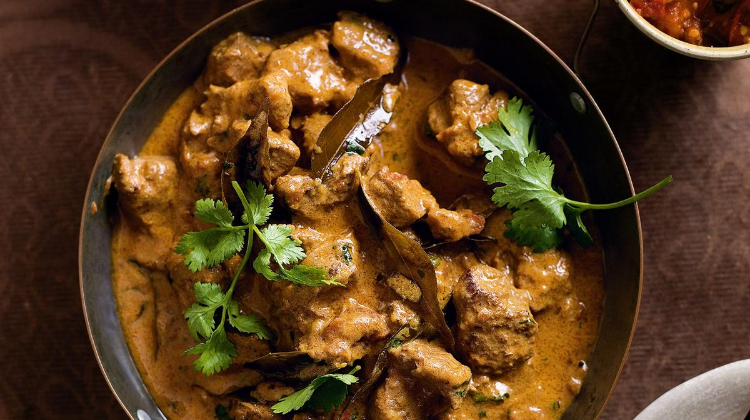 A curry is a simple way to liven up the week and warm up during the cold winter months.
INGREDIENTS
2 tablespoons ghee (see note)
800g diced lamb shoulder
1 onion, thinly sliced
3 garlic cloves, thinly sliced
1 tablespoon freshly grated ginger
1 long red chilli, deseeded, finely chopped
1 teaspoon ground turmeric
10 fresh curry leaves (see note)
400g can chopped tomatoes
2 cups (500ml) Massel beef stock
1/2 cup (125ml) coconut cream
2 tablespoons chopped coriander, to serve
Steamed Basmati rice, to serve
Raita, to serve
Tomato chutney, to serve
CURRY POWDER
1/4 cup coriander seeds
1 tablespoon cumin seeds
1 tablespoon fenugreek seeds
1 tablespoon mustard seeds
1 tablespoon cardamom seeds
8 cloves
5cm piece of cinnamon quill
2 small dried chillies or 1 teaspoon chilli flakes (add more to taste)
1/4 teaspoon ground nutmeg
1 tablespoon ground turmeric
METHOD
Step 1
For the curry powder, place the coriander, cumin, fenugreek, mustard, cardamom, cloves and cinnamon in a non-stick frypan over low heat. Dry-fry the spices, shaking the pan, for 1 minute or until fragrant. Remove the pan from the heat, then tip the spices into a mortar and pestle or spice grinder with the chilli, nutmeg and turmeric. Grind to a powder, then set aside.
Step 2
Heat 1 tablespoon of the ghee in a flameproof casserole over medium-high heat. Brown the diced lamb, in batches, for 3-4 minutes. Remove with a slotted spoon, then set aside.
Step 3
Add the remaining ghee to the pan and turn the heat to medium. Cook the onion, stirring, for 2-3 minutes until softened. Add garlic, ginger, chilli, turmeric and curry leaves and cook for 1 minute until fragrant. Add 4 tablespoons of the curry powder, stir well to combine, then return the lamb to the pan, stirring to coat in the onion mixture. Add the tomato and stock, bring to the boil, then reduce the heat to low and simmer, uncovered, for 1 hour 30 minutes or until the lamb is tender.
Step 4
Stir in the coconut cream and chopped coriander, then cook for a further 10 minutes or until the sauce has thickened. Garnish the curry with extra coriander, then serve with rice, chutney and raitas.
TIP: This curry powder is also great with beef and chicken. Store any leftover powder in an airtight container for up to 3 months. Ghee is clarified butter, available from supermarkets. Curry leaves are from greengrocers and Asian food shops.
---
Recipe by: Author: Valli Little Image credit: Mark Roper Publication: Taste.com.au