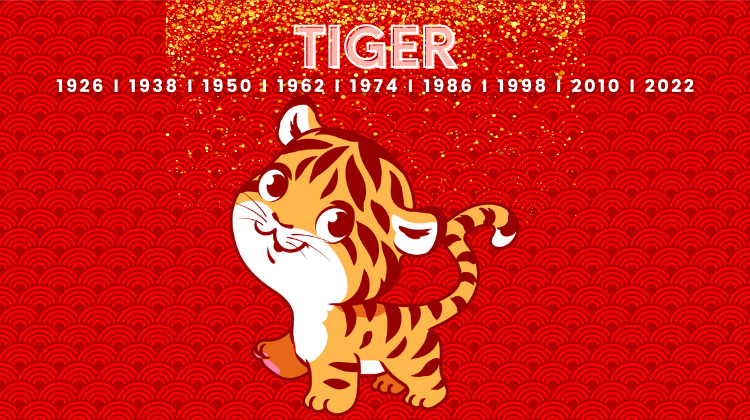 The Tiger is the third of all zodiac animals. According to one myth, the Jade Emperor said the order would be decided by the order in which they arrived to his party. The Ox set off the night before and was first. Tiger arrived early the next morning and was second. Rat secretly climbed onto Ox and jumped down when he saw the Jade Emperor. Ox and Tiger were pushed back to second and third. Despite his protests, Tiger could only settle with being the third zodiac.
Personality and Characteristics
Tigers are kind and benevolent. Animals, jazz music or other things that call for imagination are good for them. They rarely feel tired and have rich emotions. Sometimes though, they make brash decisions and are hard to control. But no matter how many difficulties or obstacles they face, they will never give up. In the end, Tigers live an average life—there are times of joy, sadness and sometimes disappointment.
Compatibility
Most compatible with: Pig, Horse, Dog
As a Tiger, they are most compatible with Pigs. Both of them will see the other as most important and are willing to make sacrifices whenever needed. They are able to be themselves in this relationship and similar goals make up for differences in personality.
Horses are able to attract a Tiger's attention. Their relationship will include mutual respect and support. Hard on themselves and others, a Tiger will only reveal their gentle side to the honest Dog. They will also encourage the Dog to go after their goals and withstand the troubles together.
Least compatible with: Monkey, Snake
A Monkey and Tiger have clashing personalities. They want and need different things. This relationship can only end in arguments.
It's hard for a Snake and Tiger to sympathize and understand each other. The relationship will be full of suspect and coldness.
Lucky things for Tigers
Colours: green, blue
Numbers: 1, 3, 7
Flowers: plum blossom
Directions of auspiciousness: north
Directions of wealth: southeast, northwest
Directions of love: east
Unlucky things
Colours: white
Numbers: 4, 9