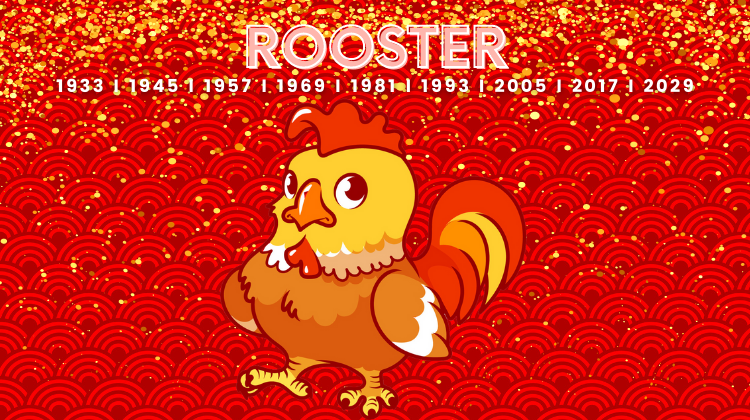 The Rooster is the tenth of all zodiac animals. According to one myth, the Jade Emperor said the order would be decided by the order in which they arrived to his party. Monkey, Rooster and Dog were in another country, helping a god defeat evil spirits. After, they set off to the party together. Because they arrived at the same time, the Jade Emperor went by the order they met the god in the other country. Thus, Rooster became tenth.
Personality and Characteristics
Roosters are serious in their work. They are straightforward and decisive in their actions. They'll directly criticize what they see unfit and are perfectionists. They are logical and good at managing teams.
Family is a refuge and paradise for them. They wish for a large family—it means that there are more people to encourage and support them.
No matter how difficult something is, they won't give up. But if someone is blocking their path, they will reveal their fierce side. They are terrifying if angered and get into arguments easily. Even if they lose, they'll use various methods to convince others into their side.
Roosters really just need loved ones to validate them and encouragement to find themselves.
Compatibility
Most compatible with Rooster: Dragon, Snake, Ox
Roosters and Dragons make the most compatible pair. The Rooster is willing to support Dragon from behind, and Dragon's accomplishments make Rooster proud.
With a Snake, Roosters are able to discuss life and chase after dreams together.
The Ox's honesty and conservativeness fit well with the Rooster's personality. Their relationship develops steadily.
Least compatible with Rooster: Rabbit, Dog, Rooster
The Rooster and Rabbit clash strongly. They have contrasting opinions and can't understand each other.
Roosters and Dogs have a cold relationship. Though they can tolerate each other, it's full of tension. Roosters are also incompatible with themselves. They fight often and can't compromise.
Lucky things for Roosters
Colours: gold, brown, yellow
Numbers: 5, 7, 8
Mineral: strawberry crystal
Directions of auspiciousness: northeast, east
Directions of wealth: northwest
Directions of love: south
Unlucky things
Colours: red, orange, purple
Numbers: 2, 5, 6