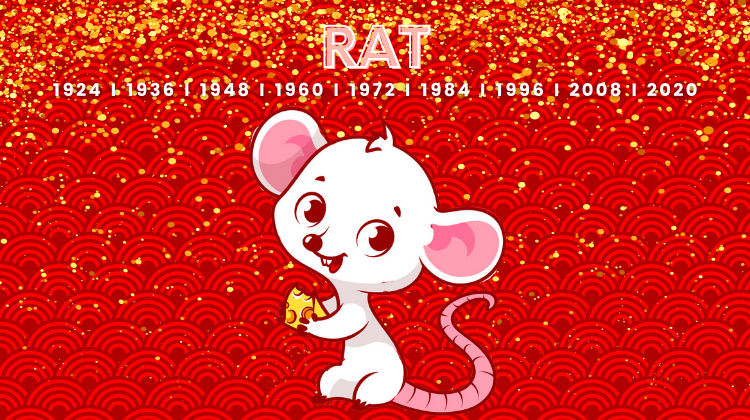 The Rat is the first of all zodiac animals. According to one myth, the Jade Emperor said the order would be decided by the order in which they arrived to his party. The Rat tricked the Ox into giving him a ride. Then, just as they arrived at the finish line, Rat jumped down and landed ahead of Ox, becoming first.
Personality and Characteristics
Optimistic and energetic, people born in the Rat year are likable by all. They are sensitive to other's emotions but are stubborn with your opinion. Their personality is kind, but due to weak communication skills, their words may seem impolite and rude.
On the financial side, they like saving and can be stingy. However, their love for hoarding will sometimes cause them to waste money on unnecessary things.
Compatibility
Most compatible with Rat: Ox, Dragon, Monkey
Rat's fixed Earthly Branch is water, while Ox is earth. They complement and help one another in both work and life.
Couples that are formed from Rat and Dragon will be able to understand each other well, and enjoy success together.
Similar to Dragons, Monkeys get along great with Rats, and tend to live happily ever after like a fairytale.
Least compatible with Rat: Horse, Goat and Rabbit
The Earthly Branches of Rat and Horse clash strongly. No matter what a Rat does, it won't be enough for the Horse.
Goats are attracted to Rat's wealth and hope to control it, making it a rocky relationship.
The Rabbit will either purposely or unintentionally go against the Rat's wishes, while the Rat can only keep silent.
Lucky things for Rats
Colours: blue, gold, green
Numbers: 2, 3
Flowers: lily, African violet, valley lily
Directions of auspiciousness: southeast, northeast
Directions of wealth: southeast, east
Directions of love: west
Unlucky things for Rats
Colours: yellow, brown
Numbers: 5, 9