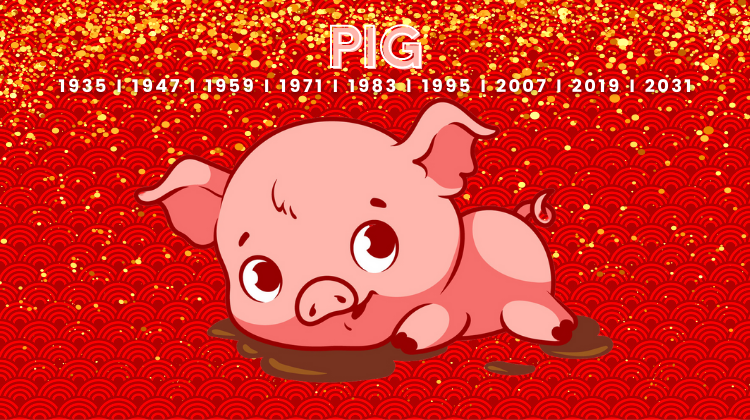 The Pig is the twelfth of all zodiac animals. According to one myth, the Jade Emperor said the order would be decided by the order in which they arrived to his party. Pig was late because he overslept. Another story says that a wolf destroyed his house. He had to rebuild his home before he could set off. When he arrived, he was the last one and could only take twelfth place.
Personality and Characteristics
Pigs might not stand out in a crowd. But they are very realistic. Others may be all talk and no action. Pigs are the opposite.
Though not wasteful spenders, they will let themselves enjoy life. They love entertainment and will occasionally treat themselves. They are a bit materialistic, but this is motivation for them to work hard. Being able to hold solid objects in their hands gives them security.
They are energetic and are always enthusiastic, even for boring jobs. If given the chance, they will take positions of power and status. They believe that only those people have the right to speak, and that's what they want.
Compatibility
Most compatible with Pig: Tiger, Rabbit, Goat
Pigs are the most compatible with Tigers. The brave Tiger gives Pigs the security they need.
The Rabbit will be attracted by the Pig's intelligence and warmth. With the Goat, there are many common interests and topics.
Least compatible with Pig: Snake, Monkey
Pigs and Snakes have clashing personalities and are the least compatible. They have biases against each other and can't compromise. It's hard to get along with Monkeys as well. The relationship is full of tension.
Lucky things for Pigs
Colours: yellow, gray, brown
Numbers: 2, 5, 8
Mineral: agate
Directions of auspiciousness: southeast, east
Directions of wealth: northeast
Directions of love: north
Unlucky things
Colours: blue, green
Numbers: 1, 7, 9