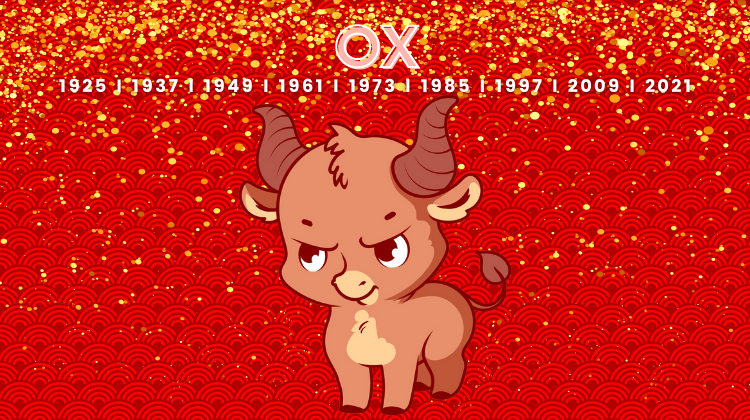 The Ox is the second of all zodiac animals. According to one myth, the Jade Emperor said the order would be decided by the order in which they arrived to his party. The Ox was about to be the first to arrive, but Rat tricked Ox into giving him a ride. Then, just as they arrived, Rat jumped down and landed ahead of Ox. Thus, Ox became the second animal.
Personality and Characteristics
Oxen are honest and earnest. They are low key and never look for praise or to be the centre of attention. This often hides their talent, but they'll gain recognition through their hard work.
They believe that everyone should do what's asked for them and stay within their bounds. Though they are kind, it's difficult for them to understand persuasion using pathos. Rarely losing your temper, they think logically and make great leaders.
Compatibility
Most compatible with Ox: Rat, Snake, Rooster
Rat's fixed Earthly Branch is water, while Ox is earth. They have complementing personalities and hold the same goals in life.
Snake and Rooster fit Ox nicely as well. Not only will Snakes give warmth and romance, they offer help and support in work too. Honest and loyal, they can also be attracted to the Rooster's soft and loving heart.
Least compatible with Ox: Goat, Horse, Dog
The Earthly Branches of Goat and Ox clash strongly. They can tolerate each other's differences, but there will always be tension.
Horses have a free and wild spirit, and may not have a serious attitude toward life. This is the opposite of an Ox's personality. With Dogs, it's hard to find common ground.
Lucky things for Oxen
Colours: blue, yellow, green
Numbers: 1, 4
Flowers: lily of the valley and lucky bamboo
Directions of auspiciousness: East, Southeast
Directions of wealth: Northwest
Directions of love: South
Unlucky things
Colours: red, brown
Numbers: 3, 6