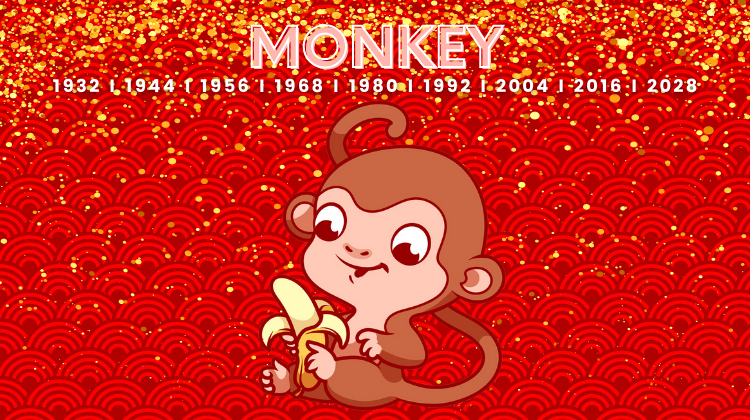 The Monkey is the ninth of all zodiac animals. According to one myth, the Jade Emperor said the order would be decided by the order in which they arrived to his party. Monkey, Rooster and Dog were in another country, helping a god defeat evil spirits. After, they set off to the party together. Because they arrived at the same time, the Jade Emperor went by the order they met the god in the other country. Thus, Monkey became ninth.
Personality and Characteristics
Monkeys' most defining trait is their intelligence. As children, they win awards and the praises of teachers. As adults, they gain professional recognition and make great leaders.
Due to this, it's understandable that they can be arrogant. They're often disrespectful and self-centered when making decisions. Monkeys become jealous easily, especially when others are doing better than them. They are awfully competitive, which is both positive and negative.
However, they view everyone as teachers. They're willing to listen to critique and learn from their mistakes. They are calm and logical thinkers. Monkeys are always able to triumph and be the final winner.
Compatibility
Most compatible with Monkey: Snake, Rat, Dragon
The relationship between Monkeys and Snakes is very extreme. They are either the most compatible or clash the strongest. They have similar personalities, but one is yin and the other is yang.
Rats are able to cheer Monkeys up when they're feeling down. When they're together, it's always full of laughter.
Dragons can also bring joy to Monkeys. They're attractive to Monkeys too as a strong competitor.
Least compatible with Monkey: Tiger, Pig
Monkeys and Tigers clash strongly. They are suspicious of each other and fight constantly.
Pigs don't have the same life goals and interests as Monkeys. It's difficult to communicate and relationships don't last long.
Lucky things for Monkeys
Colours: white, gold, blue
Numbers: 1, 7, 8
Mineral: topaz
Directions of auspiciousness: northeast, east
Directions of wealth: northwest
Directions of love: west
Unlucky things
Colours: black, gray, dark brown
Numbers: 2, 5, 9