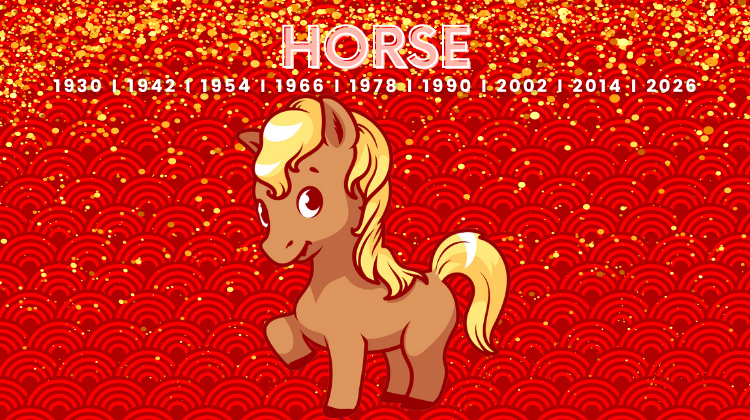 The Horse is the seventh of all zodiac animals. According to one myth, the Jade Emperor said the order would be decided by the order in which they arrived to his party. Horse had to pass a cemetery on his way, but he was too scared. He hesitated for the longest time because running past it with his eyes closed. After he overcame that obstacle, he went at full speed and managed to arrive seventh.
Personality and Characteristics
Horses are full of energy, albeit a bit too much. Both studious and athletic, they are strong believers of chasing after dreams. Rather than wealth and fame, happiness is what motivates them. They expect others to operate at the same speed as them and don't understand why others can't.
Contradicting characteristics come from the fact that they are ever-changing emotions. They have short tempers and become angry quickly. But once it's over, they forget quickly. They're biggest fault is that they're blind to their own faults.
Compatibility
Most compatible with Horse: Goat, Tiger, Dog
Horse and Goat are the most compatible. They are attracted by Goat's tenderness, while the Goat's reliance will make a Horse feel content.
Tigers are willing to put in effort for a Horse. Their relationship is genuine and true. With a Dog, Horses will find a partner in work and life.
Least compatible with Horse: Rat, Ox, Horse
Horses and Rats have clashing personalities. They are the least compatible and their marriage will be painful.
With Oxen, there will be obstacles in communication and the relationship is cold. Horses are also incompatible with themselves. They cooperate well, but are too similar to maintain a lasting relationship outside of work.
Lucky things for Horses
Colours: green, red, purple
Numbers: 3, 4, 9
Mineral: crystal
Directions of auspiciousness: southwest, west
Directions of wealth: southeast
Directions of love: south
Unlucky things
Colours: gold, brown, black
Numbers: 6, 7, 8