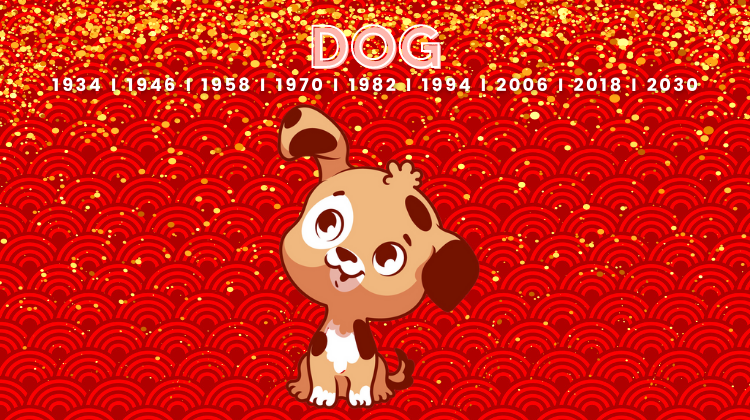 The Dog is the eleventh of all zodiac animals. According to one myth, the Jade Emperor said the order would be decided by the order in which they arrived to his party. Monkey, Rooster and Dog were in another country, helping a god defeat evil spirits. After, they set off to the party together. Because they arrived at the same time, the Jade Emperor went by the order they met the god in the other country. Thus, Dog became eleventh.
Personality and Characteristics
A Dog's most defining characteristic is their loyalty. They will never abandon their friends, family or work.
Honest and just, they are popular in social circles. Everyone needs a Dog friend for advice and help. They are also good at helping others find and fix their bad habits.
Despite how they act, they are worried and anxious inside. However, they will not let this stop them. Once they decide on something, no one can persuade them against it.
Compatibility
Most compatible with Dog: Rabbit, Tiger, Horse
Dogs are the most compatible with Rabbits. They're attracted to the Rabbit's kindness, while the Rabbit supports Dogs in the background.
Dogs are often pessimistic and needs a Tiger's reassurance. Tigers also need a Dog's loyalty. With Horses, both understand and respect each other's opinions.
Least compatible with Dog: Dragon, Ox, Goat
Dogs and Dragons clash strongly and are the least compatible. Neither trusts each other and they have intense arguments.
There's a cold relationship with Oxen. They have different interests and can't interact smoothly. Dogs and Goats are able to tolerate each other, but there's not much else.
Lucky things for Dogs
Colours: green, red, purple
Numbers: 3, 4, 9
Mineral: emerald
Directions of auspiciousness: north, northwest
Directions of wealth: southeast
Directions of love: south
Unlucky things
Colours: blue, brown
Numbers: 1, 7, 8