SANTA PAWS!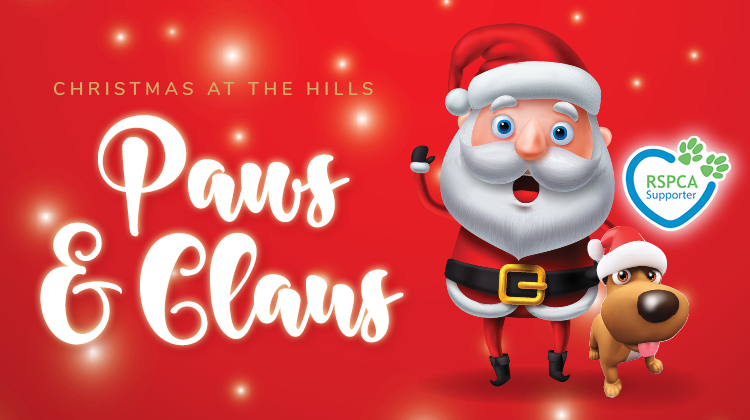 Christmas photos aren't just for humans – they're for our pets too!
Let your pet join in the fun and have their photo taken with Santa and we will donate $2 to the RSPCA on your behalf.
Photo Price List
Single Photo Package – 1 x 6"x 8" Photo only $10
Double Photo Package – 2 x 6"x 8" Photo $15
North Pole Package – 2 x 6"x 8", 4 x 6"x 4" Photos & Christmas Bauble with 2 x photos $25
USB Plus Package – 1 x USB with all images + 1 x 6"x 8"Photo $25
Snow Block – 1 x Photo Block with two photos $20 (With any purchase $10 or more)
Time
2.30pm to 4.30pm*
Date
Saturday 7 December
Saturday 14 December
Sunday 15 December
Saturday 21 December
Sunday 22 December
Location
Level 4, Santa set outside Best & Less
FAQ
Cost? It is free of charge to visit, but we do require the purchase a photo or photo package at a minimum.
Bookings? Bookings are not required, however, we ask that you are patient while waiting and as a friendly reminder you ensure your pet will remain calm while waiting also (times may vary). As a recommendation earlier dates can have less wait times.
Is my pet welcome? All vaccinated pets are welcome, however with the exception of large and ill-natured animals and that could harm a person or other animal. If you are unsure please contact Centre Management 3273 5611 to avoid being asked to leave on the day. We love all animals however, if you feel that your pet will not behave well with other animals, public spaces or customers, we ask that they re-think bringing your pet to the centre.
Restrained? Yes, all pets are to be restrained at all times on a lead, or in an appropriate carrier. Pets may be presented out of their cages or off their leashes in the photography area only. Pets are not allowed to roam inside the centre.
Do I have to bring anything? We will have water available in bowls. However, pets do sometimes have accidents at the wrong time, so please bring appropriate equipment to clean up any accidents your pet may have.
Where do they go? Whilst we love your little critters and welcome them to our centre during these days and times, the centre remains a pet-free zone. We, therefore, ask that you make your way directly to the Santa set located on level 4 opposite Best & Less and exit immediately after their photos have been taken. No loitering in centre before or after photos, please. Pets are not allowed near food court or food vendors at any time.
Personal Photos? No personal photography is allowed.
More Questions? Didn't get the answer you were after, please feel free to call us 3273 5611 and see how we can help.
---
* Only Pet and family photos only during this time. If you do not have a pet we ask that you return during Santa's regular hours. Loyalty App free Santa photo offer, does not apply to Santa and pet photos.