LOYALTY APP CLOSING SOON!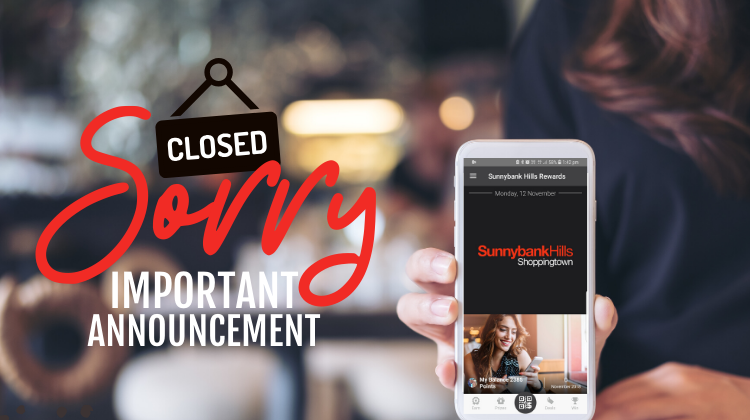 It is deep regret that we announce that from 5:30pm, Friday 20 March 2020 we wish to advise that we will no longer be offering the 'Sunnybank Hills Rewards' Loyalty App program, which rewards our shoppers with prizes, deals and competitions.
We have had a wonderful time engaging with each of our Sunnybank Hills Rewards customers and while the app will discontinue, we look forward to offering further experiences, competitions and incentives both in-centre and online.
Make sure you follow us on Facebook and Instagram, visit our website and sign up to our E-Club to stay abreast of the activities.
We'll also be going out with a BANG!
From today we'll be uploading over $5,000 worth of prizes and competitions including
WIN the Ultimate Valentines Day Night Out! Congratulations to STEVE LIN our winner!
WIN Charlie & The Chocolate Factory Tickets Click Here
And don't forget you can also donate your points towards our ongoing BUSHFIRE APPEAL Click Here
We thank you for your participation.
---
FAQ
Q : When will I stop earning points
A : From 9:00pm, Sunday 23 February 2020
Q : From what date will I be unable to use the loyalty app?
A : From 5:30pm, Friday 20 March 2020
Q : What will happen to my remaining points after Friday 20 March 2020?
A : All points after the 5:30pm 20 March 2020 will be erased from 5.30pm 20 March 2020 and will be non-transferrable for any prizes, deals or competitions.
Q : What will happen to all my details that I have entered in the loyalty app?
A : The collection, use and disclosure of personal information in connection with the Loyalty App is governed by our Privacy noticed which is available on our centre website and the loyalty app's terms and conditions.
Q : If I won a competition prize before Friday 20 March 2020, how long do I have to collect it from Centre Management Office?
A : Until 5:30pm, Friday 27 March 2020