KITCHEN HQ!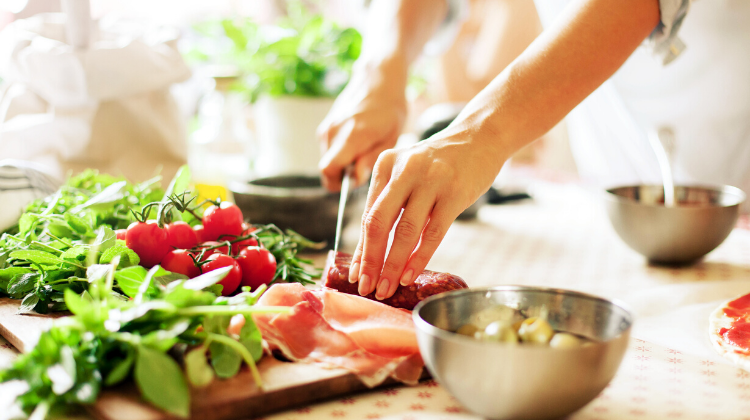 Welcome to Kitchen HQ!
Discover delicious recipe ideas, food inspiration and meals for the whole family. Here you'll find a selection of delicious recipes perfect for any occasion or event night from family favourites, healthy must-haves, quick and easy meals, family favourites, food to love, mood food, quick weeknight dinners, savvy swaps and something for everyone's favourite – the sweet spot!
Our jam-packed Kitchen HQ will be updated with exciting tried-and-tested recipes, inspiration, ideas, tips and tricks to help you feed your family well, ensuring they're the best they can be.
Layered Christmas Pasta Salad RECIPE
Comb Alaska Trifle RECIPE
Cloudy Lemon Pie RECIPE
Quick Chicken Pho RECIPE
Gin & Tonic Pudding RECIPE
Mac n Cheese Cob Loaf RECIPE
Fudgy Peanut Butter Swirl Brownie RECIPE
Northern Thai Beef Curry RECIPE
No Bake Snickers Cake RECIPE
6 Fully Loaded Potatoes RECIPE
Pie Maker Condensed Milk French Toast RECIPE
Stuffed Capsicum RECIPE
No-bake Turkish Delight Cheesecake Slice RECIPE
Teriyaki Pork Wrapped Rice Balls RECIPE
Sweet Croissant Breakfast Casserole RECIPE
Easy Tuna, Sweetcorn & Rice Slice RECIPE
Air Fried Chicken Tacos RECIPE
Chicken Stroganoff Tray Bake RECIPE
Passionfruit Sour Cream Slice RECIPE
No Bake Oatmeal Bites RECIPE
15-Minute Pan-Fried Gnocchi Boscaiola RECIPE
5-ingredient Chicken & Fig Wellingtons RECIPE
Golden Syrup and Custard Slice RECIPE
Indian Cauliflower & Chickpea Tray Bake RECIPE
Espresso Martini Ripple Cakes RECIPE
Bacon Egg Muffin RECIPE
Caramilk Lattice Custard Slice RECIPE
Cheesy Bacon & Veggie Rice Slice RECIPE
Rolo Cookie Bars RECIPE
Healthy Frittata Tray Bake RECIPE
Mini Baileys Cheesecake RECIPE
Crispy Eggplant Sticks RECIPE
Mixed Berry Croissant Bake RECIPE
5-Day Veggie Quesadilla RECIPE
Eggplant Incaciata RECIPE
Caramilk Custard Tarts RECIPE
Stir-Fried Char Sui Pork Mince RECIPE
Baklava Tarts RECIPE
Easy Japanese Beef Mince Stir-Fry RECIPE
Raspberry Yoghurt Loaf Cake RECIPE
Nutella Monkey Self Saucing Pudding RECIPE
One-pot Cajun Chicken & Rice RECIPE
Gozleme Lasagne RECIPE
Chocolate, Caramel Peanut Slice RECIPE
Quick Pork Chow Mein RECIPE
Japanese Fried Cauliflower RECIPE
Flake Slice RECIPE
Fairy Bread Cob Loaf Dip RECIPE
Mexican beef stew with beans RECIPE
Creamy Chickpea and Vegetable Curry RECIPE
Bolognese Rice Bake RECIPE
Lemon Meringue Scones RECIPE
Lasagne Soup in a Cheesy Garlic Cob RECIPE
Biscoff Smores Dip RECIPE
Creamy Chicken Gnocchi Pesto Bake RECIPE
Blueberry Bread & Butter Pudding RECIPE
Salted Caramel Peanut Slice RECIPE
4-Ingredient Nutella Air Fryer Brownies RECIPE
Slow Cooker Moroccan Beef & Barley Stew RECIPE
Giant Mars Bar Crackle RECIPE
Creamy Lemon Salmon Tray Bake RECIPE
Slow Cooker Honey Garlic Chicken RECIPE
Salted Caramel No-bake Cheesecake RECIPE
Coconut Lamb Curry RECIPE
Jersey Caramel Slices RECIPE
Moroccan Beef Casserole RECIPE
White Chocolate and Raspberry Mud Cake RECIPE
Egg and Bacon Mini Pizzas RECIPE
Pie Maker Lemon Delicious RECIPE
Creamy Chicken Risoni Bake RECIPE
Cheats Milo & Nutella Fudge RECIPE
Pie Maker Hash Browns RECIPE
Condense Milk Lemon Ripple Pudding RECIPE
Creamy Chicken Bake RECIPE
Easy Chocolate Pudding Pie Jars RECIPE
Healthier Creamy Chicken Noodle Soup RECIPE
Carrot, Zucchini and Ricotta Muffins RECIPE
Oreo and Raspberry Pancake Traybake RECIPE
Indian Spiced Eggplant Skewers RECIPE
90-second mile-high Nutella mug cake RECIPE
Healthy Slow Cooker Tuscan Bread Soup RECIPE
Beef Bourguignon with Cheesy Scone Dumpling RECIPE
Dairy-free Raspberry & Maple Ice Cream RECIPE
No-bake Chia Muesli Bars RECIPE
Easy Chicken & Mushroom Pie RECIPE
Curried Sausages Traybake RECIPE
Giant Slow Cooker Golden Syrup Dumpling RECIPE

Sweet Potato Corn Cakes RECIPE
Chicken Chow Mein Traybake RECIPE
3 Cheese & Tomato Zucchini Slice RECIPE
Date, Apricot & Chia Bliss Balls RECIPE
Chinese Chicken Drumstick RECIPE
10-min Chicken Fajita Traybake RECIPE
Red Wine-Poached Quince Cobbler RECIPE
Caramilk Anzac Cheesecake RECIPE
Greek Lamb Meatball Traybake RECIPE
Deluxe Biscoff Mallow Slice RECIPE
10-minute cheat's fried rice RECIPE
Chocolate Digestive S'mores RECIPE 
Zucchini & Corn Fritters with Herb Sour Cream RECIPE
French Onion Beef with Potatoes RECIPE
Creamy Lemon Buttercrust Slice RECIPE
Cheesecake Rasberry Brownies RECIPE
Thai Chicken & Ramen Noodle Soup RECIPE
Baked Chicken with Sage and Prosciutto RECIPE
Lemon Roasted Chicken RECIPE
Chicken & Pesto Homemade Pizza RECIPE
Mac 'n' Cheese stuffed Chicken Schnitzel roll-ups RECIPE
Condensed milk fudge swirl brownie RECIPE
Berry and white choc no-bake cheesecake RECIPE
Eggplant Rigatoni with Bocconcini RECIPE