HAVE CONFIDENCE!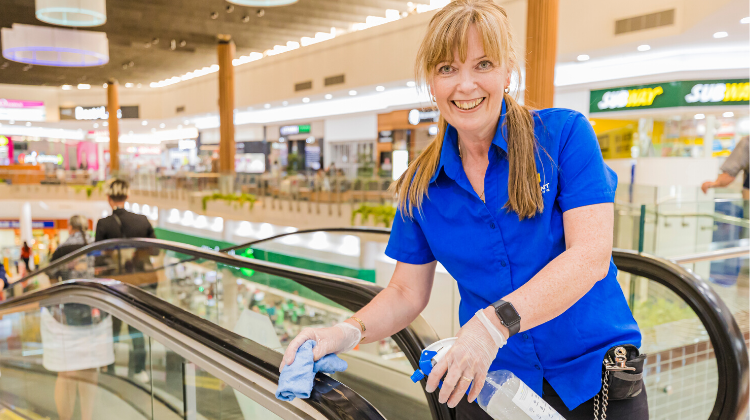 Sunnybank Hills Shoppingtown is open and is here to serve our community. The health and well-being of our community continues to be our top priority. We remain committed to protecting our community, the retailers, staff and customers, with signage reminding people of hygiene and social distancing requirements, sanitiser stations for all to use, and a strengthened focus on cleaning particularly frequent touch points and high traffic areas.
Please remember that we all play a part in keeping our community safe, and we expect customers and staff to adhere to public health rules whilst visiting Sunnybank Hills Shoppingtown. This includes:
Face masks are no longer mandatory within our centre. However, we are encouraging customers to continue wearing when visiting the centre, particularly where social distancing isn't possible at all times;
Maintaining social distancing and keeping 1.5 metres away from those around you (1 person per 2 square metres);
Washing hands regularly and making use of our complimentary sanitiser stations
Adhering to floor markings/traffic flow and respecting customer limits allowed in each store;
Using credit card or contactless payments instead of cash where possible;
Covering your face with a flexed elbow or tissue if you sneeze or cough; and
Staying home if you are unwell or experiencing any cold/flu symptoms.
We thank you for your ongoing support of our wonderful retailers. ❤️
For more information, please visit health.qld.gov.au/ You can also call Queensland Health with any specific questions on 13 43 25 84.
Together as a community, we can help to stop the spread of COVID-19 and stay healthy. Remember that Sunnybank Hills Shoppingtown is here for you. Thank you for your ongoing support of our retailers.
---
QLD HEALTH UPDATE – 11 JANAUARY 
Queensland Health are still keen for people to come forward and get tested. Particularly if you visited the following stores her at Sunnybank Hills Shoppingtown on Tuesday 5 January 2021.
Coles between 7.30am and 8am
Nextra Newsagency between 8am and 8.15am
If you have symptoms or not, please visit your closest testing facility. To find your nearest testing facility, please click on this link :
https://bit.ly/38v8YQ9
Thank you again for playing your part to help keep our community safe.
---
IMPORTANT UPDATE – 7 JANAURY 
You may have heard we have been advised by the Queensland Health Department that a person recently diagnosed with Covid-19 has visited Sunnybank Hills Shoppingtown on Tuesday 5 January between 7.15am and 8.15am. We were also advised by Queensland Health that there is no concern for the shopping centre, it's customers or retailers, and that there is no increased risk of contracting the virus following this date. If you visited the centre on the 5 January and/or you are feeling unwell, it is best to see a doctor.
In response, Sunnybank Hills Shoppingtown has taken immediate action and closed any directly or indirectly affected stores and services and will conduct a deep clean and disinfectant of the entire Centre and affected shops after trade tonight, as an added safety precaution.
Please be assure that your safety and health is our highest priority. Thank you to all our retailers, staff and customers during this time.
---
ONGOING REMINDERS 
We appreciate the risks and concerns regarding COVID-19, and we are working hard to make all our customers feel safe.
In addition to our already rigorous cleaning and sanitising practices, we have taken additional measures which include:
Increasing the intensity of our cleaning efforts of all commonly touched surfaces, amenities and high traffic areas.
Sanitiser stations have been positioned throughout the shopping centre for customers to use.
Actively encouraging good hygiene and preventative measures with signage displayed throughout the shopping centre.
Remember that you, our valued customers, also play an important role in helping to curb the spread of COVID-19 by following the practical guidance from Queensland Health:
Wash your hands regularly with soap and water or alcohol-based sanitiser.
Cover your nose and mouth with a tissue or bent elbow when coughing or sneezing.
Avoid touching your face, nose and mouth, and avoid shaking hands.
Stay home if you are unwell, or at risk.
Avoid contact with anyone who is unwell – try to stay 1.5m away from anyone who is coughing or sneezing.
We will continue to follow advice from health authorities. Information sources are readily available via the following links:
https://www.health.gov.au/news/health-alerts/novel-coronavirus-2019-ncov-health-alert
https://www.health.qld.gov.au/