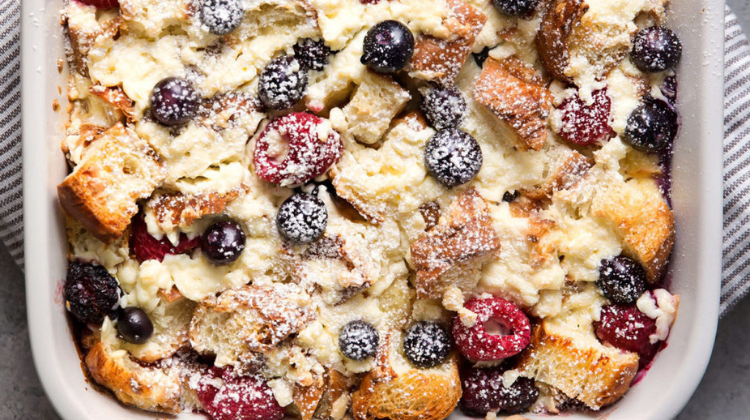 A great breakfast doesn't have to be complicated or time consuming to make!  This overnight sweet croissant breakfast casserole is assembled the night before, studded with juicy mixed berries and sweetened cream cheese, then drizzled with a mouthwatering vanilla bean glaze.  It seriously tastes like a danish!
INGREDIENTS
4 large croissants (from the bakery) – sliced into 1 inch cubes
1 1/2 cups mixed berries – (I used raspberries, blackberries, and blueberries)
8 oz cream cheese, – softened
1 cup milk – (whole or 2%)
1/2 cup granulated sugar
2 large eggs
1 tsp vanilla extract
1 tsp lemon zest
Vanilla Bean Glaze:
1/2 cup powdered sugar
2-3 Tbsp heavy cream – (or half and half and milk)
1 tsp vanilla bean paste – (or vanilla extract if you don't have the paste)
powdered sugar for dusting – (optional but recommended)
METHOD
Step 1
Grease an 8×8″ baking dish, fill with sliced croissants and mixed berries. Set aside.
Step 2
Add cream cheese to mixing bowl and beat with hand mixer until smooth. Add milk, sugar, eggs, vanilla and lemon zest and beat until combined.
Step 3
Pour mixture over croissants and berries.
Step 4
Cover tightly and refrigerate overnight.
Step 5
Remove baking dish from refrigerator and let sit on the counter. Preheat oven to 350 F degrees.
Step 6
Bake, covered with aluminum foil, for 30 minutes. Remove foil and bake uncovered for 15 minutes, until golden and when a knife inserted in center comes out clean.
Step 7
While casserole is baking, add powdered sugar, heavy cream, and vanilla bean paste to a small mixing bowl and whisk to combine until smooth and pourable.
Step 8
Drizzle glaze over casserole after it's finished baking. Serve warm and dust with powdered sugar if desired.
TIP: You can bake this dish the same day you make it, if needed. Just be sure to let the croissant puff sit for 30 minutes or so before baking so the croissants can soak up some of the liquid.
---
Recipe by: Author:The Chunky Chef Images: The Chunky Chef