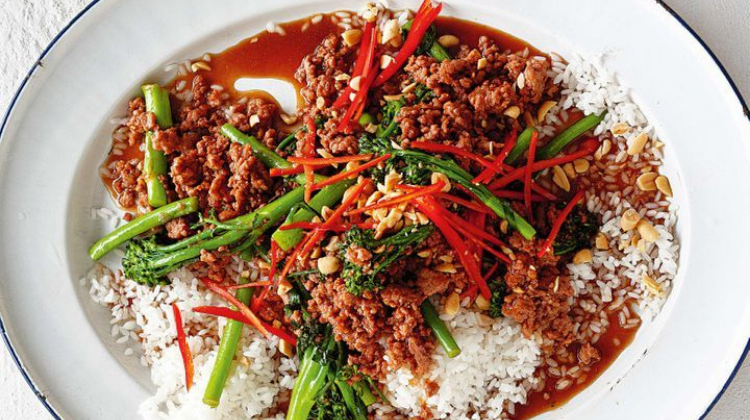 This speedy stir-fry is full of fabulous Asian flavours.
INGREDIENTS
2 cups (400g) medium-grain rice
1 tbs olive oil
2 garlic cloves, finely chopped
2 tsp grated ginger
500g pork mince
1/2 cup (125ml) Chinese rice wine (shaohsing)(see note) or dry sherry
2 tbs brown sugar
1/3 cup (80ml) char siu sauce (see note)
2 tbs dark soy sauce
1 bunch broccolini, trimmed, blanched
1/2 cup (75g) unsalted roasted peanuts, chopped
1 long red chilli, seeds removed, finely shredded
METHOD
Step 1
Cook the rice according to the packet instructions.
Step 2
Meanwhile, heat the oil in a wok or large frypan over medium-high heat. Add the garlic and ginger, and stir-fry for 5 seconds or until fragrant. Add the pork and stir-fry for 3-4 minutes until no longer pink. Add the wine, brown sugar and char siu and dark soy sauces, and toss to combine. Add the broccolini and stir-fry for a further 2 minutes or until the broccolini is just tender.
Step 3
Serve with rice and garnish with chopped peanuts and shredded chilli.
TIP: Chinese rice wine (shaohsing) and char siu sauce is available from Asian Village Supermarket located on level 2.
---
Recipe by: Author: Valli Little & Warren Mendes Image credit: Jeremy Simons Publication: Taste.com.au