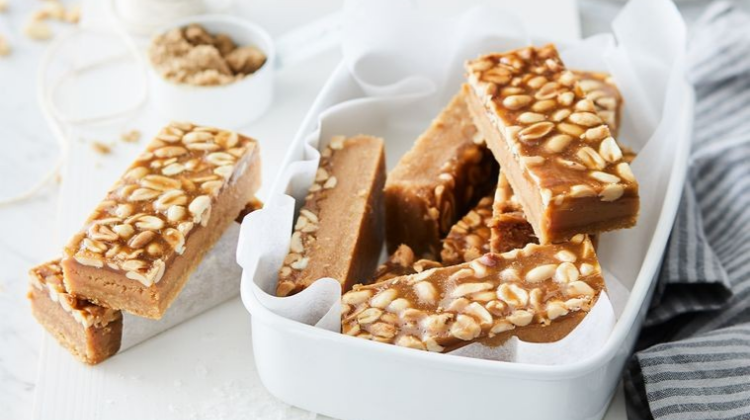 Take your snack game to the next level with this salted caramel peanut slice
INGREDIENTS
1 1/2 cups (225g) plain flour
200g salted butter, melted
3/4 cup (170g) soft brown sugar
3/4 cup (75g) almond meal
Filling
2 x 395g cans condensed milk
1/3 cup (95g) smooth peanut butter
100g salted butter
1/4 cup (90g) golden syrup
Topping
3/4 cup (170g) soft brown sugar
1/3 cup (115g) golden syrup
150g salted butter
250g salted roasted peanuts
METHOD
Step 1
Preheat oven to 200°C. Grease and line base and sides of a 20cm x 30cm lamington pan, leaving a 3cm overhang on each side.
Step 2
Mix flour, butter, sugar and almond meal well in a bowl. Press into prepared pan and bake for 15 minutes or until golden. Cool for 10 minutes.
Step 3
For filling, combine all ingredients and a pinch of salt flakes in a saucepan over medium heat. Stir continuously for 8-10 minutes until mixture comes to the boil, thickens and turns golden. Spread evenly over the base. Bake for 10 minutes or until starting to firm and brown around the edges. Cool for 15 minutes.
Step 4
For topping, place sugar, syrup and butter in a saucepan over medium heat and stir for 5 minutes or until sugar dissolves and mixture boils. Stir in peanuts and boil for a further minute. Carefully and evenly pour over filling to cover, then bake for a further 10 minutes or until top is bubbling.
Step 5
Cool in tin completely, then chill in fridge for 1 hour or longer if time allows. Cut into 18 bars.
---
Recipe by: Author: Lucy Busuttil Publication: Delicious