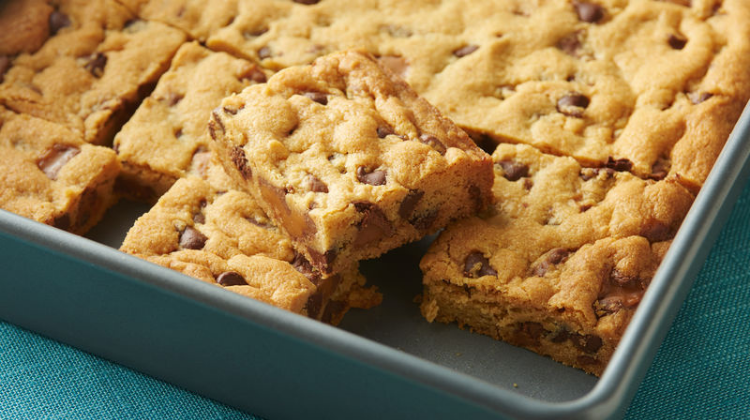 These Chocolate Chip Cookie Bars make for a quick and easy dessert packed with chocolate chips and Rolo's – mmm yum.
INGREDIENTS
1 Betty Crocker Chocolate Chip Cookie Mix
1 egg
1 stick unsalted butter – softened
3.4 oz box vanilla instant pudding mix
1 cup chopped up rolos + a few extra for decorating the top
METHOD
Step 1
Preheat oven to 350 degrees and prepare an 8 inch baking dish with either non stick spray or line the pan with foil and spray that with non stick spray.
Step 2
In a large bowl, add the cookie mix, egg, butter and pudding mix and mix on low speed (or with a spoon until everything is well combined). The mixture should look like soft cookie dough. With a spoon, mix in the chopped up rolos.
Step 3
Pour the mixture into your prepared pan, press it out evenly and top with the extra rolos. Bake for about 30 minutes (until the sides are golden brown).
Step 4
Set the pan out to cool completely before cutting into bars. Enjoy!
---
Recipe by: Author & Images: Crafty Morning