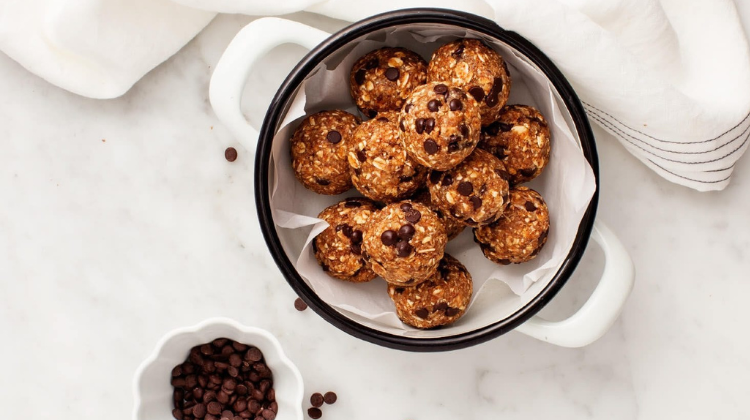 These no bake energy bites are the BEST healthy snack! They're naturally sweetened, vegan, gluten-free, and totally delicious.
INGREDIENTS
1 cup whole rolled oats (not instant)
1 tablespoon ground flaxseed + 3 tablespoons warm water
¼ cup roasted almond butter
2 tablespoons maple syrup
3 soft Medjool dates, pitted (or 2 additional tablespoons of maple syrup)
2 tablespoons coconut oil
½ teaspoon vanilla extract
¼ teaspoon cinnamon
¼ teaspoon sea salt
¼ cup chopped walnuts
½ cup shredded coconut
⅓ cup chocolate chips
METHOD
Step 1
In a medium pan, toast the oats over low heat until just browned around the edges, about 1 to 2 minutes. Remove from the heat and set aside.
Step 2
In a small bowl, combine the flaxseed and warm water and set aside to thicken for about 5 minutes. In a food processor, combine the almond butter, maple syrup, dates, coconut oil, vanilla, cinnamon and salt. Add the flaxseed mixture and blend until smooth.
Step 3
Add the walnuts and pulse until combined. Add the oats and coconut and pulse until combined. Add the chocolate chips and pulse just until evenly incorporated.
Step 4
Roll the mixture into 12 balls and chill until firm, at least 30 minutes. If the dough is too sticky to work with, chill it for several minutes before rolling.
Step 5
Store in an air-tight container in the refrigerator.
TIPS:
Toast the oats
These energy balls come together in no time in the food processor, but you'll actually do the first step on the stove! Toast the oats over low heat until they're just beginning to brown around the edges. This extra step takes no time at all – just 1 or 2 minutes – and it gives the balls a richer flavor and makes them easier to digest!
Don't cut the chilling time short
It's tempting to eat the balls as soon as you roll them together, but I highly recommend waiting for a full 30 minutes to allow them to set up in the fridge. It gives the flavors a chance to meld and develop, and they'll have a firmer, chewier texture.
Store them in the fridge or freezer
Store the no bake energy bites in an airtight container in the fridge for up to 2 weeks, or freeze them for up to 2 months. If they're frozen, allow them to sit at room temperature for 20 minutes before you eat.
---
Recipe by: Author: Jeanine Donofrio Images: Jeanine Donofrio from Love & Lemons Publication: Love & Lemons Food