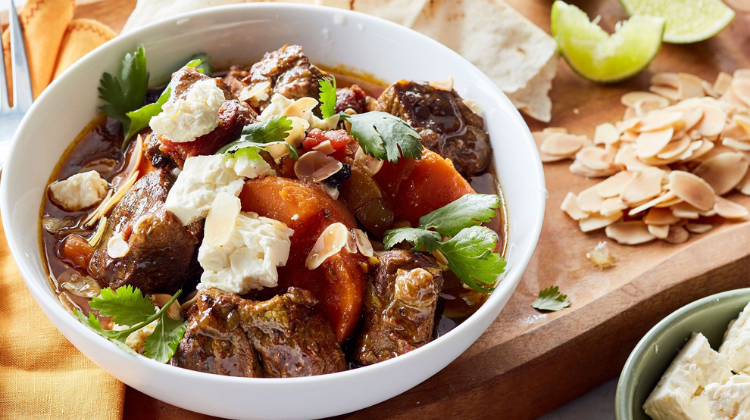 Crumbled fetta, flaked almonds and fresh lebanese bread add a delicious Moroccan spin to this tender beef casserole.
INGREDIENTS
1 tablespoon olive oil
750g Coles Australian Beef Chuck Casserole Steak, cut into 4cm pieces
1 brown onion, finely chopped
1 tablespoon ginger, finely grated
1 cinnamon stick or quill
1 tablespoon ground cumin
2 teaspoons turmeric
400g can crushed tomatoes
1/2 cup (125ml) beef stock
1/3 cup (55g) currants
1kg sweet potato, peeled, cut into 4cm pieces
75g fetta, crumbled
2 tablespoons flaked almonds, toasted
Coriander leaves, to serve
Lime wedges, to serve
Lebanese bread, to serve
METHOD
Step 1
Heat the oil in a large frying pan over high heat. Cook one-third of the beef, turning, for 3 mins or until browned all over. Transfer to the bowl of a 20-cup (5L) capacity slow cooker. Repeat with remaining beef.
Step 2
Add the onion, ginger, cinnamon, cumin, turmeric, tomato, stock, currants and sweet potato to the beef in the slow cooker. Cook on high for 4 hours, or on low for 6 hours, or until beef is very tender.
Step 3
Spoon the beef mixture into serving bowls. Sprinkle with fetta, almonds and coriander. Serve with lime wedges and Lebanese bread.
---
Recipe by: Publication: Coles and Taste