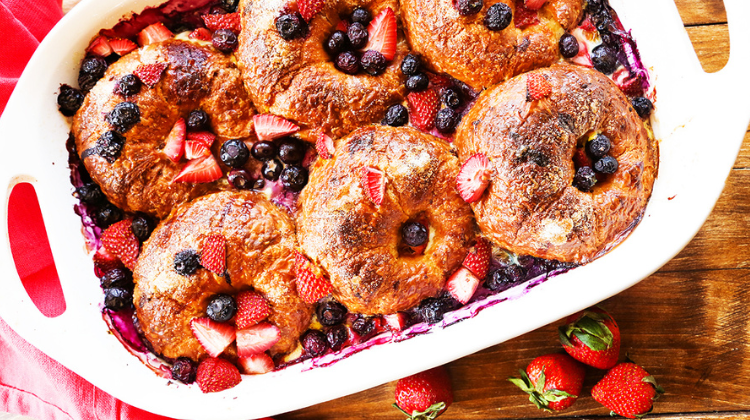 Replace bread with croissants to make the most delicious French toast you'll ever meet!
INGREDIENTS
6 large croissants
2 cups mixed berries chopped
1 cup milk
4 eggs beaten
1/4 cup sugar
1 tsp. cinnamon
1 tsp. vanilla
1 tbsp. turbinado or granulated sugar, for sprinkling
METHOD
Step 1
Coat a 9×13 baking dish with cooking spray. Add the croissants to the dish in a single layer (do some squishing if needed). Add the berries in a single layer over the croissants.
Step 2
In a medium bowl, combine the milk, eggs, 1/4 cup sugar, cinnamon and vanilla and mix well. Pour evenly over the croissants and sprinkle with turbinado (or granulated) sugar. Cover tightly and refrigerate for a minimum of 1 hour and up to 12.
Step 3
Remove the pan from the fridge and preheat the oven to 350 degrees F. Bake uncovered for 30 minutes and serve immediately! Top with syrup, if desired, just before serving.
TIP: Refrigerate for a minimum of 1 hour and up to 12.
---
Recipe by: Author & Publication: Pipanddebby.com