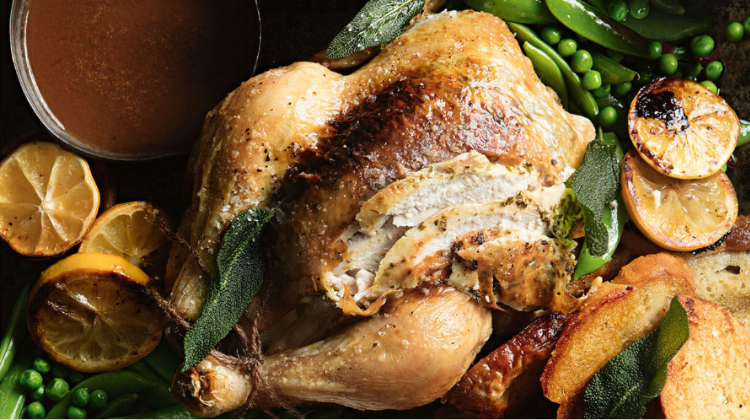 Keep it simple with this easy recipe for the best roast chicken flavoured with garlic and lemon and roasted to perfection.
INGREDIENTS
2 x 10g pkts fresh sage leaves
2 lemons
125g butter, softened
1.6kg whole chicken
8 slices Woolworths rustic baguette
1 tbs Essentials plain flour
1 1/2 cups Woolworths Select chicken stock
1 tbs Woolworths Select extra virgin olive oil
steamed sugar snap peas to serve
steamed peas to serve
METHOD
Step 1
Preheat oven to 200°c. Finely chop half of the sage leaves and finely grate the rind of 1 lemon. Place into a bowl with 80g of the butter and stir to combine. Season with salt and pepper. Slice lemons.
Step 2
Using your fingers, gently separate skin from the chicken breast to form a pocket. Carefully spread the butter mixture over breast, under the skin. Place half the lemon slices inside the chicken and secure legs with kitchen twine. Microwave remaining butter for 40 seconds until melted. Set aside.
Step 3
Place bread and remaining lemon into a roasting pan and place chicken onto bread. Brush melted butter evenly over chicken. Roast for 1 hour 20 minutes until cooked.
Step 4
Transfer chicken and bread to a serving platter and cover loosely with foil. Drain all but 2 tbs of the cooking juices from pan. Place over medium heat and stir to loosen sediment from base of pan. Sprinkle with flour, stirring to combine. Slowly add stock, stirring until smooth. Bring to the boil. Simmer for 5 minutes or until thickened.
Step 5
Heat oil in a pan over medium heat. Add remaining sage leaves and cook for 1 minute or until crisp. Drain on paper towel. Serve chicken with bread, vegetables and gravy. Garnish with sage.
---
Recipe: Woolworths