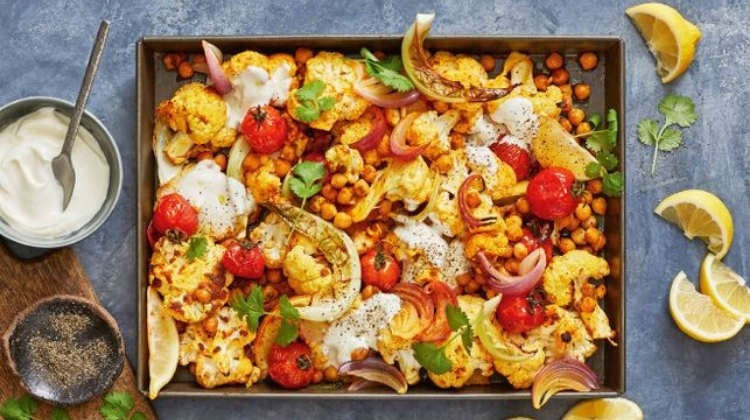 This healthy Indian tray bake is loaded with cauliflower, chickpeas and vegies, and is perfect as a side or hearty vegetarian main.
INGREDIENTS
130g packet sweet berry tomatoes
1 small cauliflower, cut into large florets, small leaves reserved
1/4 cup korma curry paste
400g can chickpeas, drained, rinsed
1 small red onion, cut into thin wedges
1 lemon, cut into wedges
1/2 cup plain Greek-style yoghurt
Fresh coriander leaves, to serve
METHOD
Step 1
Preheat oven to 200C/180C fan-forced. Grease a large baking tray with sides.
Step 2
Remove tomatoes from vine. Thickly slice cauliflower florets. Place korma curry paste in a large bowl. Add cauliflower, chickpeas and onion. Toss to combine. Transfer mixture to prepared tray. Season with salt and pepper. Add lemon wedges, tomatoes and reserved cauliflower leaves. Roast for 40 minutes or until cauliflower is tender and beginning to char. Learn the best way to prepare cauliflower florets, pan-fry cauliflower steak, make cauliflower rice and roast a cauliflower whole.
Step 3
Dollop vegetables with yoghurt. Season with salt and pepper. Top with coriander leaves. Serve.
---
Recipe by: Author: Claire Brookman Image credit: Chris L Jones Publication: Super Food Ideas and Taste.com.au