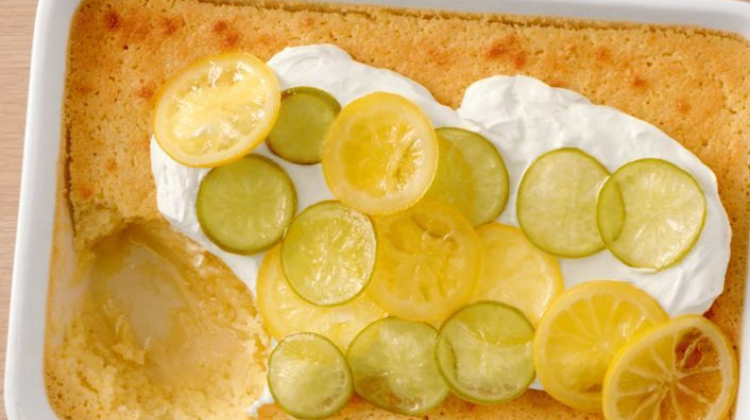 Turn your favourite gin cocktail into pudding so you can enjoy it for drinks AND dessert!
INGREDIENTS
355g (1 2/3 cups) caster sugar
150g (1 cup) self-raising flour
375ml (1 1/2 cups) milk
150g butter, melted, cooled
2 teaspoons finely grated lemon rind
1 teaspoon finely grated lime rind
60ml (1/4 cup) lemon juice
1 tablespoon lime juice
4 eggs, separated
2 tablespoons gin
Whipped cream, to serve
Gin & Tonic Syrup
140g (2/3 cup) caster sugar
125ml (1/2 cup) tonic water
60ml (1/4 cup) gin
1 small lemon, thinly sliced
1 small lime, thinly sliced
METHOD
Step 1
Preheat oven to 170C/150C fan-forced.
Step 2
Whisk sugar and flour together in a large bowl. Add milk, butter, lemon and lime rind and juice, egg yolks and gin. Whisk until well combined.
Step 3
Place egg whites in a separate bowl. Using an electric mixer, beat until just-firm peaks. Gently fold egg white into batter in 3 batches. Gently pour into a 7cm-deep, 18 x 29cm baking dish. Place dish in a roasting pan. Add enough boiling water to pan to reach halfway up side of dish.
Step 4
Bake for 50 to 60 minutes or until top is just firm
Step 5
Meanwhile, make Gin and tonic syrup Place sugar, tonic water and gin in a medium frying pan over medium heat. Cook, stirring, until sugar dissolves. Increase heat to medium-high. Bring to the boil. Boil for 5 minutes. Carefully add lemon and lime slices. Boil for a further 5 minutes or until syrup has thickened and the rind of the lemon and lime is tender. Remove from heat. Set aside for 10 minutes to cool.
Step 6
Working quickly, dollop top of pudding with whipped cream. Top with lemon and lime slices and drizzle with half of the syrup. Serve with remaining syrup.
---
Recipe by: Author: Kim Coverdale Publication: Taste.com.au