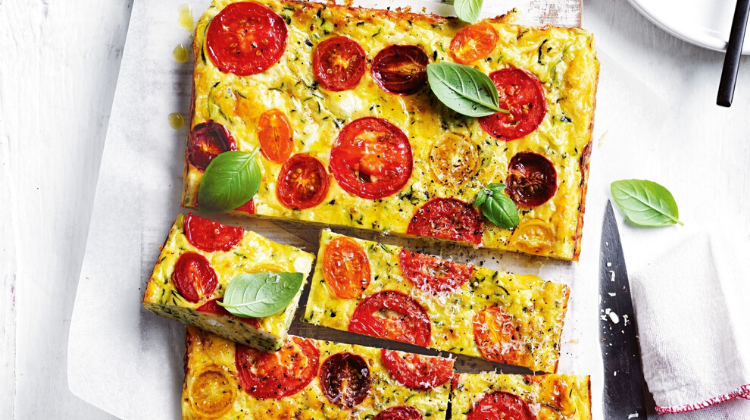 This veggie-packed 3-cheese, tomato and zucchini slice is a perfect summer dinner, that is super easy to get on the table!
INGREDIENTS
1/2 cup (75g) self-raising flour
6 Coles Australian Free Range Eggs
500g zucchini, coarsely grated
100g Coles Goat's Cheese, crumbled
1 cup (120g) gouda cheese, coarsely grated
1/2 cup (40g) finely grated parmesan
3 spring onions, thinly sliced
1 Roma tomato, sliced
8 mixed tomatoes, halved
Extra virgin olive oil, for brushing
Finely grated parmesan, extra, to serve
Basil leaves, to serve
METHOD
Step 1
Preheat oven to 190°C (170°C fan-forced). Grease a 23cm (base measurement) square cake pan and line the base and sides with baking paper, allowing the sides to extend by 5cm.
Step 2
In a large bowl, whisk flour, 2 1/2 tsp salt and 1/2 tsp pepper. Add eggs and whisk until mostly smooth.
Step 3
Place zucchini in the centre of a clean tea towel. Gather corners of tea towel to enclose, then squeeze excess moisture from the zucchini. Stir the zucchini into the egg mixture in the bowl. Using a rubber spatula, fold in the goat's cheese, gouda, parmesan and spring onion. Transfer the zucchini mixture to the prepared pan, using the spatula to smooth the top. Lay the tomatoes over the top of the slice, gently pressing the tomatoes into the slice.
Step 4
Bake for 30-35 mins or until the slice is cooked through. Brush the top of the slice with oil and season with salt and pepper. Set aside in the pan for 10 mins to cool, then use the overhanging baking paper to remove the slice from the pan. Cut the slice into pieces and sprinkle with extra parmesan. Top with basil leaves and serve warm or at room temperature.
TIP: Allow for 10 minutes for cooling time.Make it ahead: Cook this slice up to 2 days ahead – cool, cover and refrigerate. Reheat in the oven at 180°C (160°C fan-forced) or serve at room temperature.
---
RECIPE BY: Website: Taste.com.au Author: Curtis Stone Image credit: Ben Dearnley Publication: Coles