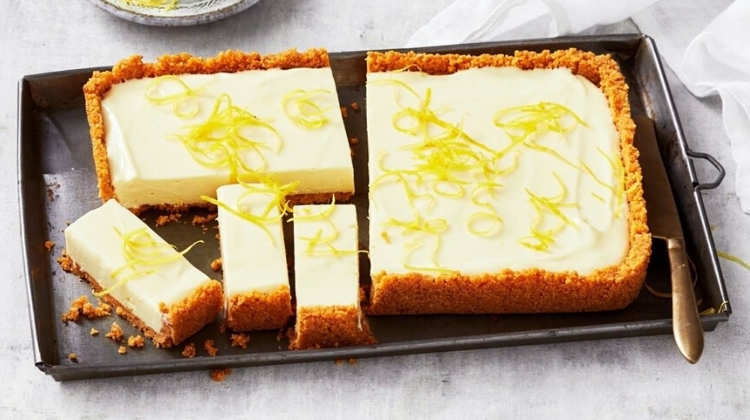 This no-bake lemon slice features a thick biscuit crust and cheesecake-style filling made from cream cheese and sweetened condensed milk. It'll be your new favourite dessert!
INGREDIENTS
250g pkt sweet plain biscuits
125g butter, melted
1 teaspoon gelatine powder
500g cream cheese, chopped, at room temperature
395g can NESTLÉ Sweetened Condensed Milk
60ml (1/4 cup) fresh lemon juice
1 tablespoon finely grated lemon rind, plus extra finely shredded lemon zest, to serve
METHOD
Step 1
Grease a 16 x 26cm slice pan and line with baking paper, allowing the paper to extend up all sides.
Step 2
Break up the biscuits into a food processor and process until coarsely crushed. Add the butter and process until combined. Transfer to the prepared pan. Use a flat-bottomed glass to press the biscuit mixture into the base and up sides. Place in the fridge for 20 minutes or until firm.
Step 3
Place 1 tablespoon water in a small microwave-safe bowl and sprinkle with the gelatine. Set aside for 2-3 minutes to soften. Microwave on High for 10 seconds or until hot. Use a fork to gently whisk until gelatine dissolves. Set aside to cool slightly.
Step 4
Wipe the food processor clean then add the cream cheese. Process until nearly smooth. Add the condensed milk, lemon juice and rind. Process until combined. Add the gelatine mixture and process again until combined. Pour over the biscuit mixture and smooth the surface. Place in the fridge for 3 hours or until set.
Step 5
Use the paper to lift the slice from the pan. Sprinkle with zest and cut into bars to serve.
---
RECIPE BY: Publication: Taste.com.au Author: Tracy Rutherford Image credit: Guy Bailey