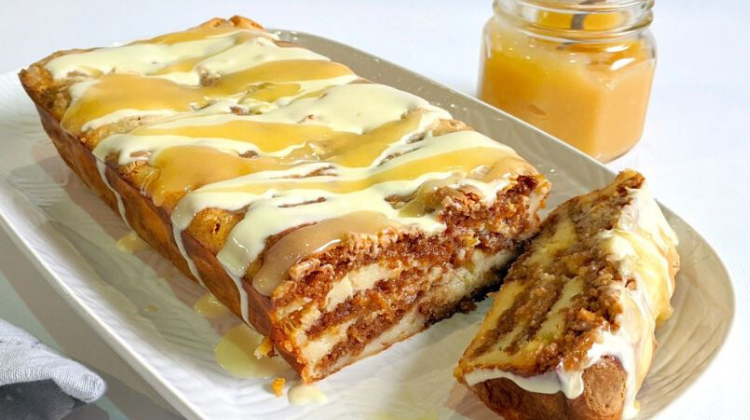 We've given choc ripple cake a zesty twist by using butternut snap cookies, lemon curd and condensed milk.
INGREDIENTS
180g white chocolate, finely chopped
395g can sweetened condensed milk
125ml (1/2 cup) milk
1 egg
1 teaspoon vanilla extract
50g (1/3 cup) plain flour
1 tablespoon finely grated lemon rind
2 tablespoons fresh lemon juice
250g pkt Arnott's Butternut Snap Cookies
90g (1/3 cup) bought lemon curd, whisked until smooth
Vanilla ice-cream, to serve
METHOD
Step 1
Preheat oven to 180C/160C fan-forced. Grease a 10 x 20cm (base measurement) loaf pan. Line with baking paper, allowing the paper to overhang the long sides.
Step 2
Reserve 80g chocolate. Whisk together the condensed milk, milk, egg, vanilla, flour and lemon rind in a jug until well combined. Stir in the lemon juice. Arrange one-third of the cookies over the base of the prepared pan, overlapping slightly to cover the base. Pour one-third of the condensed milk mixture over the biscuits and sprinkle with one-third of the remaining chocolate.
Step 3
Repeat with the remaining biscuits, condensed milk mixture and chocolate to create 2 more layers. Gently press the top layer to absorb some of the condensed milk mixture. Bake for 35 minutes or until set. Set aside for 15 minutes to cool slightly.
Step 4
Carefully lift the pudding out of the pan and place on a serving platter. The pudding will still be a bit gooey in the centre. Place the reserved chocolate in a microwave-safe bowl and microwave on High for 2 minutes, stirring halfway, or until melted. Drizzle the melted chocolate and lemon curd over the pudding. Serve with vanilla ice-cream.
---
RECIPE BY: Author: Liz Macri Image credit: Liz Macri Publication: Taste.com.au