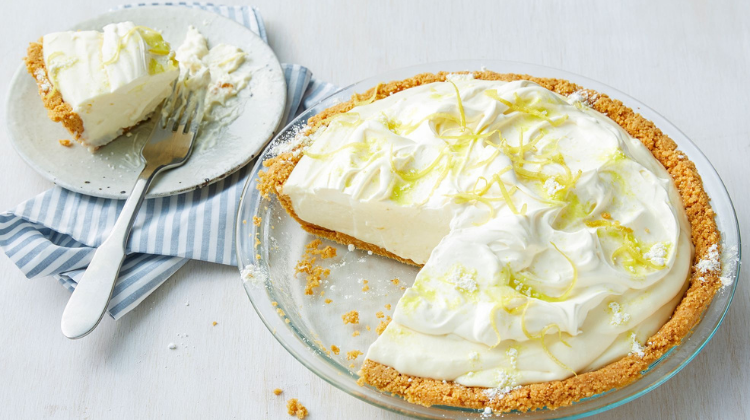 With a buttery biscuit base, creamy sweetened condensed milk filling and topping of whipped cream, this zesty light-as-air pie is every baker's dream.
INGREDIENTS
200g granita biscuits
1 tablespoon caster sugar
100g butter, melted
395g sweetened condensed milk
250g cream cheese, at room temperature, chopped
1 1/2 tablespoons finely grated lemon rind
300ml tub thickened cream
80ml (1/3 cup) fresh lemon juice
Whipped cream, to serve
Thinly sliced lemon rind, to serve
Icing sugar (optional), to dust
METHOD
Step 1
Place the biscuits and sugar in a food processor and process until finely chopped. Add the butter and process until combined. Press the mixture evenly over the base and side of a 3cm-deep, 20cm (base measurement) round glass or ceramic pie dish. Place in the fridge for 30 minutes to chill.
Step 2
Use a stand mixer with whisk attachment to whisk the condensed milk, cream cheese and lemon rind until smooth. Add the cream. Whisk until the mixture is thick. Gradually whisk in the lemon juice until just combined (do not overbeat). Spoon the mixture into the prepared biscuit base. Place in the fridge overnight to set.
Step 3
Top the pie with whipped cream and sprinkle with lemon rind. Dust with a little icing sugar, if you like. Serve.
---
Recipe by: Author: Liz Macri Image credit: Vanessa Levis Publication: Taste.com.au