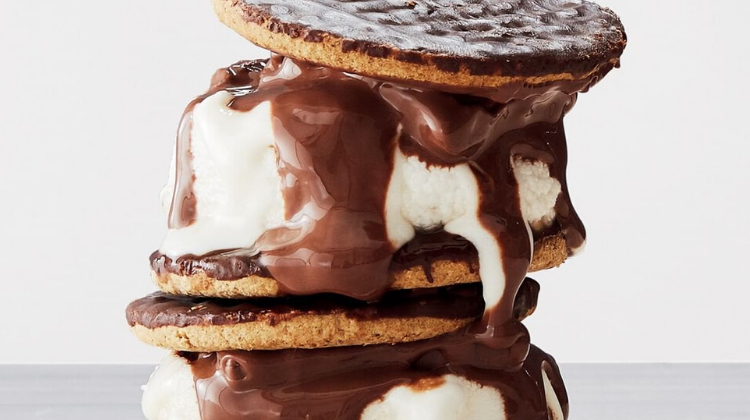 Fuse all the flavours of the classic campfire treat—chocolate, marshmallow, and graham cracker—into one! You'll be begging for S'more! 
INGREDIENTS
12 Belmont Biscuit Co. milk chocolate digestive
16 Dominion Naturals marshmallows
80g Choceur milk chocolate (or dark chocolate if preferred)
METHOD
Step 1
Preheat oven to 180°C (or 160°C fan-forced).
Step 2
Prepare 8 squares of aluminium foil, 30cm x 30cm.
Step 3
Place a biscuit over each piece of foil. Top with 2 marshmallows, followed by a square of chocolate (or 2) and top with another biscuit to form a sandwich.
Step 4
Wrap in foil, then arrange in a baking tray and bake for 5-7 minutes until heated through. Unwrap and slightly squash between fingers so the marshmallow and chocolate oozes slightly.
Serve immediately.
TIP: If you're using a campfire, prepare the biscuits and chocolate squares for easy assembly. Roast your marshmallows over the fire (on a skewer) until soft and slightly browned. Place chocolate on the biscuit, add 2 soft marshmallows onto the biscuit, top with another biscuit. Slightly squash between fingers and eat your S'more immediately!
---
RECIPE BY: Aldi Australia