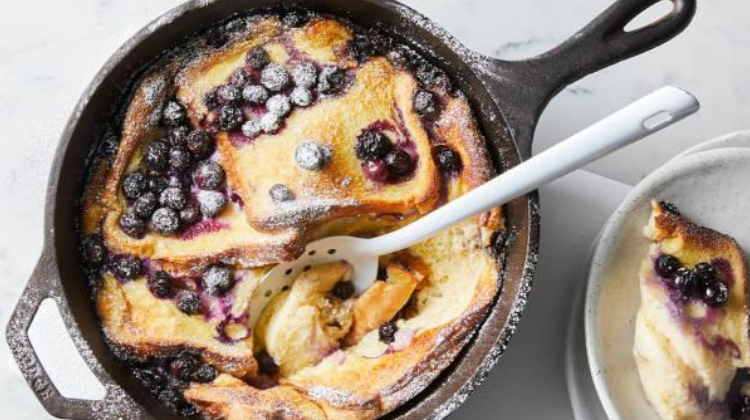 Perfect for breakfast or brunch, our bread-and-butter pudding showcases the flavors of blueberry jam.
INGREDIENTS
6 slices of white bread, thickly sliced
100g unsalted butter, softened
5 free range eggs
3 cups milk
1/3 cup caster sugar
1/4 tsp cinnamon
2 tsp vanilla extract
125g blueberries, plus extra 125g to scatter if desired
icing sugar, to serve
thickened cream, to serve
METHOD
Step 1
Preheat oven to 200°c/180°c fan-forced. Lightly grease a 1l-capacity ovenproof dish with 1/2 tbs of the butter.
Step 2
Generously spread both sides of bread with remaining butter. Cover base of dish, overlapping slices to fit.
Step 3
In a medium bowl, whisk eggs, milk, sugar, cinnamon and vanilla. Evenly cover bread with mixture and stand until mixture is almost completely absorbed.
Step 4
Scatter over blueberries and bake for 40 minutes or until golden and custard is set. Dust with icing sugar and serve with cream.
TIP: you can replace blueberries with your favourite fruit; try banana, cherries or raspberries. You can use either fresh or frozen fruit in this recipe.
---
Recipe by: Woolworths