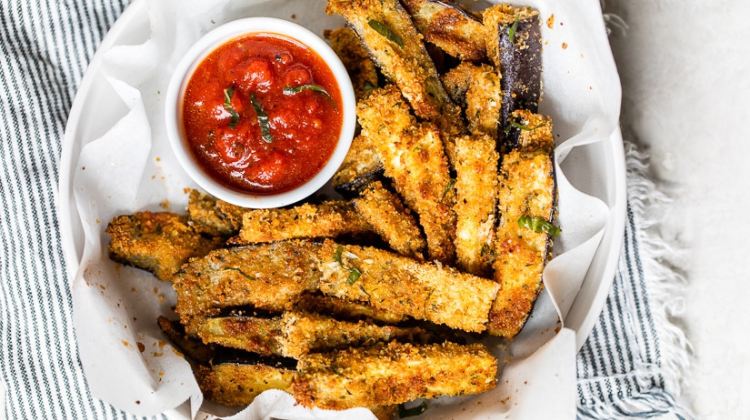 These Baked Eggplant Sticks are breaded with Italian breadcrumbs and Parmesan, baked or air-fried until golden, and served with a quick marinara sauce.
INGREDIENTS
10 oz eggplant, from 1 small or 1/2 large
1 tsp olive oil
1/2 tsp kosher salt and fresh cracked pepper
1/2 cup Italian seasoned breadcrumbs, (substitute with gluten bread crumbs if GF)
2 tbsp Parmesan cheese
1 large egg white
oil spray
1 cup marinara sauce for dipping, optional, extra see below for Marinara Sauce recipe
Marinara Sauce
1 tsp olive oil
2 cloves garlic, smashed
28 oz can crushed tomatoes, I like Tuttorosso
1 small bay leaf
1 tsp oregano
2 tbsp chopped fresh basil
salt and fresh pepper to taste
METHOD
Baked Eggplant Sticks
Step 1
Preheat the oven to 220°c. Line two baking sheets with parchment paper and lightly spray with oil.
Step 2
Place eggplant strips in a bowl and season with olive oil, salt and pepper. Set aside.
Step 3
Combine breadcrumbs and Parmesan cheese in a bowl, and egg whites in another.
Step 4
Dip a few strips of eggplant at a time into the egg whites, then into the breadcrumbs. Using a fork, remove eggplant from crumbs and place on the baking sheets. Spray with more oil and bake 10 minutes in the middle rack.
Step 5
Turn over and bake an additional 5 minutes, or until golden. Serve hot.
Marinara Sauce (Optional)
Step 1
In a medium pot, heat olive oil over medium heat.
Step 2
Add garlic and saute until golden, being careful not to burn.
Step 3
Add crushed tomatoes, salt, pepper, oregano, and bay leaf. Stir and reduce heat to low.
Step 4
Step 5
Cover and let simmer about 15 – 20 minutes.
Step 6
Remove from heat and add fresh basil.
TIP: Air Fryer Directions: Cook in batches, putting the sticks in the basket in an even layer, careful not to overcrowd it. Spritz with olive oil spray. Air Fry at 350F for 10 minutes, turning halfway.
---
Recipe by: Author / Images: Gina Homolka Publication: Skinny Taste