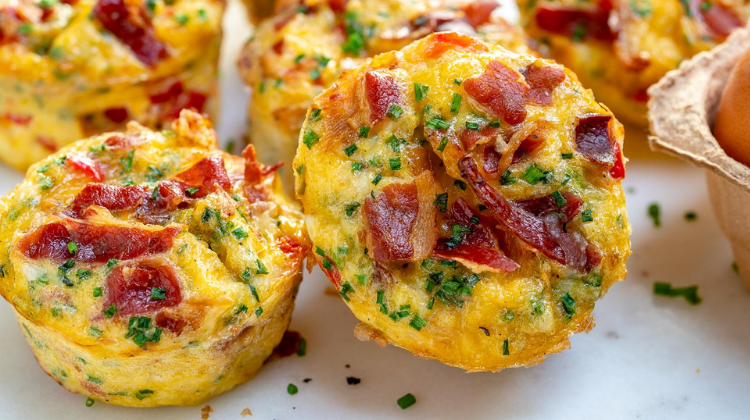 These Clean Eating Bacon Egg Muffins are the Bomb!
INGREDIENTS
4 slices nitrate free bacon, chopped
1 red bell pepper, diced
8 large, free-range eggs
1/4 cup unsweetened almond milk, or milk of choice
1/2 tsp. mustard powder
sea salt and fresh ground black pepper, to taste (about 1/4 teaspoon each)
1/3 cup shredded cheddar cheese
2 Tbsp chives, chopped
METHOD
Step 1
Preheat oven to 375 degrees f. and lightly spray a 6-cup large muffin tin with cooking spray or wipe with oil.
Step 2
Heat a medium skillet over medium-high heat. Add chopped bacon, and diced red bell pepper then cook until bacon is crispy and cooked through, stirring occasionally.
Step 3
Drain off the excess bacon grease and set aside
Step 4
Meanwhile, in a large bowl, add eggs, milk, mustard powder, a pinch of sea salt and pepper, then whisk well to combine.
Step 5
Stir in the cheese, chives, cooked bacon and peppers.
Step 6
Divide the egg mixture between the prepared muffin cups.
Step 7
Bake in your preheated oven for 15-17 minutes or until the center is set and muffins are puffed.
---
Recipe by: Author: Rachel Maser Publication: Clean Food Crush