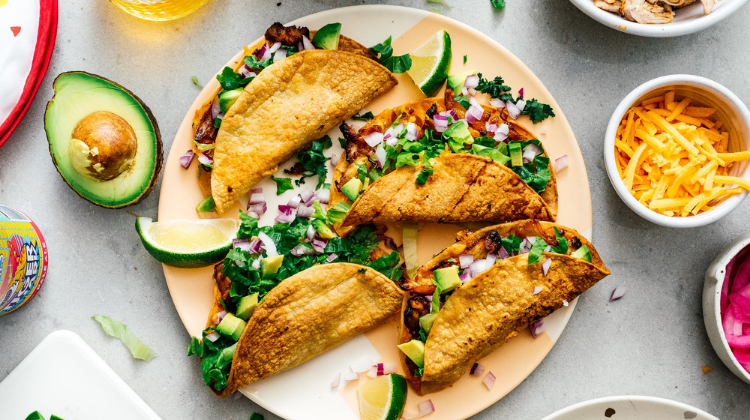 Crispy crunchy New Mexico style air fryer chicken tacos perfect for taco night. Stuffed corn tortillas with juicy chicken and cheese, crisped up in the air fryer for the ultimate in crunch. See our Facebook page on how to enter and WIN a Kmart 5.3 Litre Air Fryer!
INGREDIENTS
Chicken for Tacos
1/2 cup orange juice
3 cloves garlic minced
1 tbsp neutral oil
1 tbsp white vinegar
1 tbsp chile powder chimayo chile powder preferred, optional
2 tsp ground coriander
2 tsp smoked paprika
2 tsp dried oregano
2 tsp ground cumin
1 tsp black pepper
1 tsp kosher salt or to taste
2 lbs boneless skinless chicken thighs see notes for other meats
Tacos
12 4″ corn tortillas
2 cups shredded cheese Mexican cheese preferred, optional
1/4 bunch fresh cilantro chopped
1/4 medium onion diced
guacamole optional
avocados diced, optional
salsa optional
hot sauce optional
limes cut into wedges
METHOD
Step 1
In a large dish, bowl, or a ziplock bag, whisk together the orange juice, garlic, oil, vinegar, coriander, paprika, oregano, cumin, pepper, and salt. Add the chicken thighs and marinate covered in the fridge for 2 hours. Do not marinate for more than 4 hours otherwise the chicken will start to break down.
marinating chicken for tacos | www.iamafoodblog.com
Step 2
Remove the chicken from the marinade, lightly brush the basket with oil, and place the chicken in a single layer in the air fryer basket and cook at 360°F for 12 minutes, flipping halfway through.
Step 3
Remove the chicken thighs from the air fryer and chop or shred. If the chicken is slightly underdone, don't worry, it's getting cooked again (see notes).
Step 4
If needed, warm your tortilla shells in the microwave to make them pliable. Rub both sides with oil (or spray with cooking spray), lay flat and top half of the tortilla evenly with chicken and a layer of cheese (if desired). Gently fold the tortilla in half, and place in the air fryer basket, flat.
Step 5
Air fry on 400°F for 6-7 minutes, flipping once, or until the tortilla is crispy and the cheese is melted. Repeat as needed. The tortillas will continue to crisp up as they cool. Let rest on a rack while you are prepping your remaining tacos.
TIP:
To substitute chicken breasts: 10 minutes, flipping halfway through
To substitute beef: Slice 1 lb steak of choice into strips, marinate for up to 2 hours, air fry for 5-6 minutes at 400°F.
To substitute pork: Slice 1 lb thick cut pork chops into strips, marinate for up to 2 hours, air fry for 8-10 minutes at 375°F.
We like to undercook the chicken during step 2 because it will get cooked more when you're cooking the crispy taco part. If you want your chicken perfectly done inside the crispy taco, I recommend cooking it for 10 minutes at 360°F and then chopping the chicken. It will still be slightly pink.
Storage: Chicken will store in an air tight container in the fridge for up to 4 days. No need to reheat the chicken before making the tacos in the air fryer.
---
Recipe by: Author: Stephanie & Mike Publication: I am Food Blog