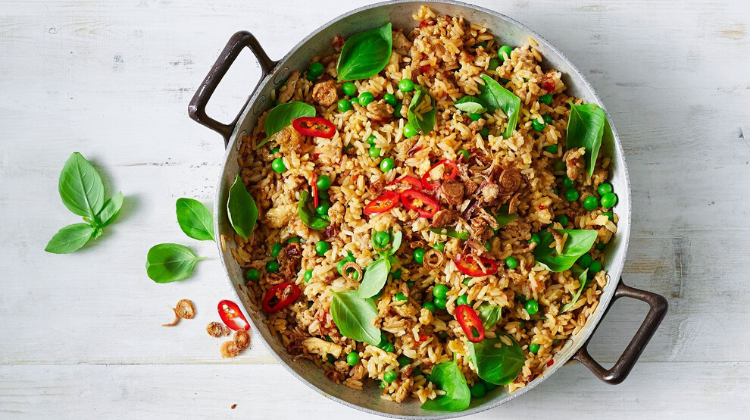 Quick dinner? Make the most of store-bought ingredients like frozen peas and packet rice and you'll have this Asian-inspired dish on the table in 10 minutes.
INGREDIENTS
1 tablespoon peanut oil

2 garlic cloves

1 long fresh red chilli

1 1/2 tablespoons kecap manis

450g pkt microwave jasmine rice

110g (2/3 cup) frozen peas

2 eggs

1 tablespoon light soy sauce

1 tablespoon sweet chilli sauce

1/2 cup fresh basil leaves

Fried shallots, to serve
METHOD
Step 1
Heat the oil in a wok over high heat. Add the pork and cook, stirring often, for 3 minutes or until browned.
Step 2
While the pork is cooking, chop the garlic and chilli.
Step 3
Push the pork to 1 side of the wok and add the garlic to the empty side. Cook garlic, stirring, for 30 seconds then toss into the pork. Add 1/2 tablespoon kecap manis and stir to combine. Cook, stirring, for 30 seconds or until caramelised.
Step 4
Use your hands to break up the rice in the packet. Add the rice and peas to the wok. Cook, stirring, for 30 seconds. Push the mixture to 1 side of the wok and crack the eggs into the empty side. Cook the eggs for 15 seconds then chop in the wok and toss through the rice.
Step 5
Add the soy sauce, sweet chilli sauce and remaining kecap manis to the wok. Toss to coat. Serve sprinkled with the basil, chilli and fried shallots.
---
RECIPE BY: Publication: Taste.com.au Author: Alison Adams Image credit: Nigel Lough